2 Bumps
What would you think if you saw this when you were shopping at JCP?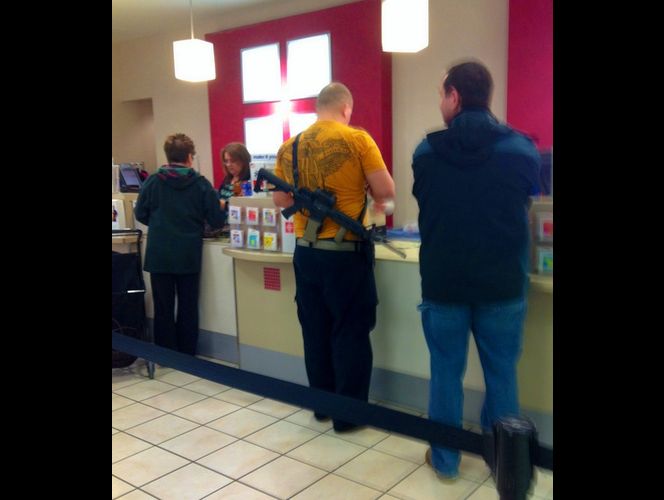 Pictures of a man carrying a rifle inside a big box store in Riverdale are raising a lot of eyebrows. The woman who took them tells KSL the man had no business bringing the gun where he did.
It was supposed to be just a regular trip to the JC Penney. Wednesday night, Cindy Yorgason was in line to return something when she saw a man with some pretty heavy fire power.
"He had the assault rifle over his shoulder," Yorgason said. "He had a handgun on the right side of his belt along with at least one additional clip."
She got out her phone after she said "a couple of other customers started to raise their eyes and look at this guy like, 'Is he crazy?'"
She never felt threatened, but she believes a place like JC Penney is an inappropriate place to bring a weapon.
"He was in the wrong place and shouldn't be doing this at this location," Yorgason said.
Even some gun advocates agree that carrying a high powered rifle into a busy store wasn't appropriate. Clark Aposhian says he has openly carried weapons in the past, but people need to practice good decorum.
"I, generally, try not to do it if it's going to upset the business owner or other people around me," Aposhian said.
Aposhian believes exposure to weapons like this may make people more tolerant of them in the future, but, for now, he says carrying weapons this way is a bad idea, even if it is legal.
Store employees said the man in the pictures is 22-year-old Joseph Kelley, an Ogden resident. They said he's done this before to garner reaction.
KSL News reached out to Kelley Thursday, but he did not return our calls. He was not arrested and wasn't asked to leave by store management.
This happened in Riverton, Utah
Asked by LostSoul88 at 9:20 AM on Jan. 18, 2013 in Politics & Current Events
Level 40 (119,496 Credits)