Armed Dolphins go AWOL....
So please be safe and no swimming in the ocean... (Being sacastic)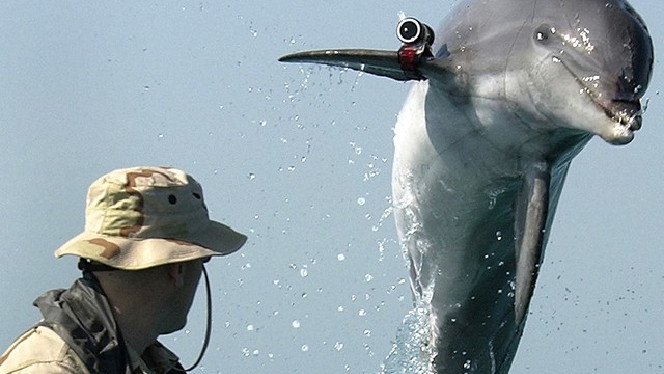 SEVASTOPOL, Ukraine — According to Russia's RIA Novosti news agency, three highly trained commando dolphins have fled the Ukrainian military. The trio was part of a special unit of dolphins trained to plant explosives on ships, attack divers and search for mines. RIA Novosti reported that five of the dolphins went out on exercises recently, but only two returned to their naval training base in the port city of Sevastopol on the Crimean Peninsula.
According to a military source quoted by RIA Novosti, these particular dolphins are trained to use special firearms and knives, affixed to their heads, to kill humans. At least one report suggests that the dolphin deserters carried equipment at the time of their escape.
So what makes a dolphin go AWOL? Yury Plyachenko, a former Soviet naval trainer, told RIA Novosti that it's generally in search of love and not for malicious purposes. Plyachenko worked with the aquatic mammals in the 1980s and saw multiple dolphins desert their post to pursue a mate. "If a male dolphin saw a female dolphin during the mating season, then he would immediately set off after her," said Plyachenko. "But they came back in a week or so."
The press center for the Ukrainian Defense Ministry has denied that military dolphins escaped, calling the reports a "fabrication." Intensifying the rhetoric, the Defense Ministry also referred to the dolphin story as a "gross provocation." At no point in the statement, however, did the Defense Ministry deny the existence of an attack dolphin program.
Many countries train military dolphins, but they are generally used for intelligence gathering and not attack purposes. A Wired.co.uk report said that the Ukrainian dolphins are part of a program that was controlled by the Soviet Union until after the Cold War, when it was turned over to Ukraine.
A BBC story from 2000 said that the Soviet program trained multiple species, including walruses, sea lions, beluga whales and seals. Some of these creatures were trained to use weapons like harpoons to attack enemy divers. They were also trained to use explosives to "undertake kamikaze strikes against enemy shipping carrying mines."
The United States military currently trains dolphins and sea lions as part of its U.S. Navy Marine Mammal Program. The official website for the program denies participation in attack dolphins, asserting that "the Navy does not now train, nor has it ever trained, its marine mammals to harm or injure humans in any fashion or to carry weapons to destroy ships." Rather, the website says that the Navy "relies on dolphins and sea lions to help protect lives and naval assets."
Do you see this as animal cruelty? What do you think about them going AWOL? lol
Asked by LostSoul88 at 12:21 PM on Mar. 13, 2013 in Pets
Level 40 (119,496 Credits)