6 Bumps
Gallup: Unemployment rate 10.3%...Underemployment 19.9%
So, is THIS the "Reaganesque" recovery we are supposed to be seeing in Obama's third year as president?! Whatever happened to those "fabulous" downward unemployment trends in December that so many heralded as THE indicator that the recession was officially over and our economy was on the mend?!
Because as many of us are aware it was at the start of Reagan's third year, that the groundwork he laid during his first two years, to turn the abysmal economic and unemployment situations around, that he "inherited" was starting to show positive results with DOWNWARD trends...not UPWARD trends, like we continue to see with the Obama presidency!
For those unfamiliar with the Reagan years (or Google), I provide you with the economic growth and unemployment data to show the differences between Reagan and Obama at the same points in their presidencies. The economic tide shifted for Reagan by the end of the 2nd quarter of his third year--as Obama is nearing the midst of end of the 1st quarter of his third year, we're still waiting for that posiitve economic shift to occur!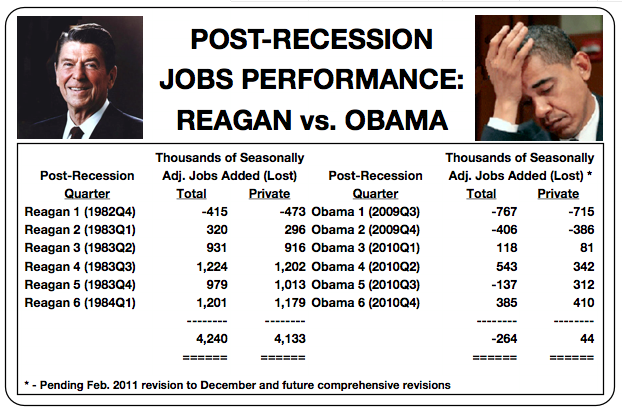 So WHY haven't we seen a TRULY improving economy OR reversal of unemployment trends?! (my question)

Asked by LoriKeet at 9:47 AM on Mar. 5, 2011 in Politics & Current Events
Level 45 (194,908 Credits)