2 Bumps
Could Mideast Oil uncertainty become an economic boon for Canada?
The Number #1 Oil import into the US? Canada....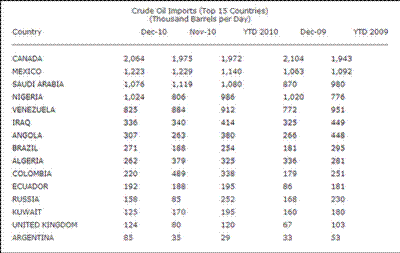 The importance of boosting energy supplies from stable allies will be a recurring theme this week during IHS-Cambridge Energy Research Associates' CERAWeek conference, which begins today in Houston.
Panels specific to the oil sands are among sessions that kick off Tuesday.
The oil sands are formations of heavy, viscous oil that are mixed with sand and water over vast areas of AlbertaProvince.
Environmental groups argue that getting the material into usable form pollutes and requires excessive energy.
It must be separated from the water and sand before it can be transported and refined, and once it is refined it creates more sulfur dioxide and other byproducts than most other grades of crude.
While most of the oil sands projects involve separating the bitumen underground, a number of them use open-pit mining that wipes out acres or forest.
Oil sands producers are subject to a Canadian carbon dioxide tax of $15 per ton, but that has done little to slow the pace of investment, with more than $140 billion in projects planned through 2012. A key driver is the potential size of the reserves: 171.3 billion barrels, making it the second-largest proven crude oil reserve in the world next to Saudi Arabia.
~~~~~
In your opinion~ Is Relying on Canada a better option for the US instead of Domestic Drilling?
Answer Question
Asked by grlygrlz2 at 9:27 PM on Mar. 7, 2011 in Politics & Current Events
Level 39 (106,530 Credits)