Should i let her by this...
ok so my 8 year has been saving her money for almost a whole year now
last year at her birthday party she had a huge rock star party with over 200 guest and when we counted all of her birthday money she had $459.00 now with that money i told her that she should by something for her self that she needs nothing big just a little something well she ended up buying her about 5 summer outfits and matching flip flops now in the summer she spent the week with her dads side when she came back she had $300.00 dollars her grandma had told me that her uncle gave her $250.00 and the rest she worked for by:Cleaning up,helping out with the pets,watering the grass etc and for christmas she also got $200.00 from My dad and his wife i bought her a toy atm machine were she has been keeping her money and she has been doing a really great job she hasn't spent anything
now the question is should i let her buy this: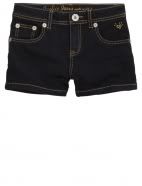 We went in to the mall and these are all of the items from justice and Maceys that she wanted to buy i didn't let her buy any of it i told her i would think about i dont really mind the clothes but the bikinis are a little bit too much i kind of felt bad because she has been saving her money and her birthday is coming up next week but Should i let her by this even tho im not going to allow her to wear them in public(the bikinis)?
Answer Question
Asked by LABELmeCUTE at 3:45 AM on Apr. 2, 2011 in General Parenting
Level 15 (1,951 Credits)
Join CafeMom now
to contribute your answer and become part of our community. It's free and takes just a minute.