Mother of four dies after abortionist severs an artery during an abortion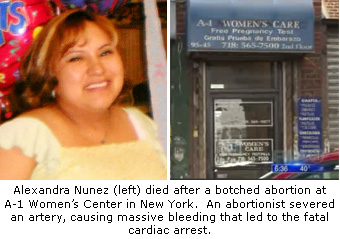 New York, NY – Alexandra Nunez, a 37-year old single mother of four, died after a botched abortion Monday at the A-1 Women's Center in New York City.
Police, who are continuing to investigate the death, said that the abortionist severed an artery during Nunez's abortion, leading to massive bleeding and eventually cardiac arrest. Nunez was rushed to a nearby hospital where she died.
A-1 Women's Center, located in a run-down building in a predominately Hispanic neighborhood of Jackson Heights, was only recently licensed in July of last year to do surgical procedures that required anesthesia. It is operated by an abortionist Salomon Epstein, who has a long history of being protested by pro-life groups.
An unidentified clinic worker told reporters that everything had "gone well" at the abortion clinic, which also doubles as a plastic surgery center. "Nothing happened here," she said.
"Nothing happened there – except fatal injuries during a botched abortion which cost a woman her life," said Operation Rescue President Troy Newman. "It is so typical of abortion clinics to hide the truth, but this time, the truth is out. The clinic is under investigation, and we will be forwarding information about this tragedy to the New York State Medical Board and demand disciplinary action against the abortionist."
Operation Rescue recently launched the Abortion Whistleblowers campaign, offering a $10,000 reward for information leading to the arrest and conviction of an abortionist who is breaking the law.
"We urge anyone working at A-1 Women's Center to come forward and tell what they know in the interest of protecting other women from suffering Ms. Nunez's fate."
http://www.operationrescue.org/archives/%e2%80%98nothing-happened-here%e2%80%99-%e2%80%93-except-fatally-botched-abortion/
(Turn ur volume up a lil, its a lil hard to hear)
http://www.politicalcartoons.com/cartoon/c32467ba-2cc6-4132-8fc1-b87d5b138d4a.html
Poll of the Week:
Question: (Pro Choice Question) The government has no right to interfere in people's personal choices. Do You Agree With This Statement?
~Vote on the Poll and Leave Comments Below~