Abortion Provider Spotlight - Kermit Barron Gosnell
Kermit Barron Gosnell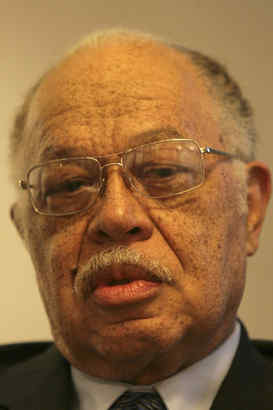 Kermit Barron Gosnell owed and operated a two multi-million dollar abortion practice in Pennsylvania called Women's Medical Society. Gosnell was arrested in January 2011, charged with eight counts of murder: one patient who allegedly died under his care after a botched abortion, and seven infants supposedly born alive whose spinal cords Gosnell allegedly severed with scissors. On May 13, 2013, he was found guilty of first-degree murder in the deaths of three babies born alive and also convicted of involuntary manslaughter in the 2009 death of 41-year-old Virginia woman Karnamaya Mongar.
---------

A documentary film about Kermit Gosnell, the Philadelphia Women's Medical Society disaster, and the cover-up by state and local oversight agencies.
Associated Press - A Philadelphia doctor accused of performing illegal, late-term abortions in a filthy clinic has been found guilty of first-degree murder in the deaths of three babies born alive but acquitted in the death of a fourth baby. (May 13, 2013)
Associated Press - A Philadelphia abortion doctor has been charged with eight counts of murder in the deaths of a woman patient and seven babies that prosecutors say were born alive and then killed with scissors. (Jan. 2011)

MSNBC - Michelle Sigona: By day it was a 'pill mill', and at night the doctor would come in and perform late-night abortions in the 6th and 7th month. The bigger the baby, the higher the cash value.

SKY NEWS - 'Delivering the babies up to 8th month of pregnancy, and then killing the viable newborn with scissors.' 'Fetal remains in the same refrigerator that the employees had their lunch in. He even employed a high school student as an anesthesiologist.' 'The conditions inside the clinic were squalid and barbaric, jars containing fetuses, even severed feet, scattered on dirty shelves.'

--------

Victims (Read the full Grand Jury Report 200+ pgs., for more victims and info)

Karnamaya Mongar was a 41-year old, refugee who had recently come to the United States from a resettlement camp in Nepal. When she arrived at the clinic, Gosnell, as usual, was not there. Office workers had her sign various forms that she could not read, and then began doping her up. She received repeated unmonitored, unrecorded intravenous injections of Demerol, a sedative seldom used in recent years because of its dangers. Gosnell liked it because it was cheap.

After several hours, Mrs. Mongar simply stopped breathing. When employees finally noticed, Gosnell was called in and briefly attempted to give CPR. He couldn't use the defibrillator (it was broken); nor did he administer emergency medications that might have restarted her heart. After further crucial delay, paramedics finally arrived, but Mrs. Mongar was probably brain dead before they were even called. In the meantime, the clinic staff hooked up machinery and rearranged her body to make it look like they had been in the midst of a routine, safe abortion procedure.

Even then, there might have been some slim hope of reviving Mrs. Mongar. The paramedics were able to generate a weak pulse. But, because of the cluttered hallways and the padlocked emergency door, it took them over twenty minutes just to find a way to get her out of the building. Doctors at the hospital managed to keep her heart beating, but they never knew what they were trying to treat, because Gosnell and his staff lied about how much anesthesia they had given, and who had given it. By that point, there was no way to restore any neurological activity. Life support was removed the next day. Karnamaya Mongar was pronounced dead.
- Grand Jury Report

Botched Abortion Victim's Family Seeks Retribution - CBS News Philly

---------

Baby Boy A was a boy born in July 2008 to a 17-year-old we will call "Sue." Sue first met Gosnell at the Atlantic Women's Medical Services, an abortion clinic in Wilmington, Delaware, where Gosnell worked one day a week. The girl was accompanied by her great aunt, who had agreed to pay for the procedure, and who testified before the Grand Jury. Gosnell inserted laminaria, gave Sue pills to begin labor, and instructed her to be at the Women's Medical Center in Philadelphia at 9:00 the next morning. Sue arrived with her aunt at 9:00 a.m. and did not leave the clinic until almost 11:00 that night. During 13-plus hours, the girl was given a large amount of Cytotec to induce labor and delivery. Sue complained of pain and was heavily sedated. According to Kareema Cross, a WMC employee, the girl was left to labor for hours and hours. Eventually, she gave birth to a large baby boy. Cross estimated that the baby was 18 to 19 inches long. She said he was nearly the size of her own six pound, six ounce, newborn daughter. After the baby was expelled, Cross noticed that he was breathing, though not for long. After about 10 to 20 seconds, while the mother was asleep, "the doctor just slit the neck," said Cross. Gosnell put the boy's body in a shoebox. Cross described the baby as so big that his feet and arms hung out over the sides of the container. Cross said that she saw the baby move after his neck was cut, and after the doctor placed it in the shoebox. Gosnell told her, "it's the baby's reflexes. It's not really moving."

The neonatologist [who testified to the Grand Jury] testified that what Gosnell told his people was absolutely false. If a baby moves, it is alive. Equally troubling, it feels a "tremendous amount of pain" when its spinal cord is severed. So, the fact that Baby Boy A continued to move after his spinal cord was cut with scissors means that he did not die instantly. Maybe the cord was not quite completely severed. In any case, his few moments of life were spent in excruciating pain.

Cross was not the only one startled by the size and maturity of Baby Boy A. Adrienne Moton and Ashley Baldwin, along with Cross, took photographs because they knew this was a baby that could and should have lived. Cross explained:

Q. Why did you all take a photograph of this baby?

A. Because it was big and it was wrong and we knew it. We knew something was wrong.

I'm not sure who took the picture first, but when we seen this baby, it was -- it was a shock to us because I never seen a baby that big that he had done. So it was -- I knew something was wrong because everything, like you can see everything, the hair, eyes, everything. And I never seen for any other procedure that he did, I never seen any like that.

Gosnell simply noted the baby boy's size by joking, as he often did after delivering a large baby. According to Cross, the doctor said: "This baby is big enough to walk around with me or walk me to the bus stop."

The doctor released Sue to go home 13 or 14 hours after she arrived. Her aunt described her condition: "She was moaning. She was standing up. She was like holding her stomach, doubled over." She remained in pain for days and could barely eat. When she developed a fever, her aunt called Gosnell. He instructed the aunt to take her temperature and asked if she was taking pain medicine he had given her -- which she was. But he did not have her come in to be checked out. And he did not suggest that she go to a hospital. When Sue started throwing up a few days later, her grandmother contacted a different doctor, who told her to get to a hospital right away.

Sue was admitted to Crozier-Chester Hospital. Doctors there found that she had a severe infection and blood clots that had traveled to her lungs. According to Kareema Cross, who spoke to the aunt, Sue almost died. The teen stayed at the hospital for a week and a half. She became extremely thin and took months to recover, according to her aunt.
- Grand Jury Report

--------

- One woman, for example, was left lying in place for hours after Gosnell tore her cervix and colon while trying, unsuccessfully, to extract the fetus. Relatives who came to pick her up were refused entry into the building; they had to threaten to call the police. They eventually found her inside, bleeding and incoherent, and transported her to the hospital, where doctors had to remove almost half a foot of her intestines.
- On another occasion, Gosnell simply sent a patient home, after keeping her mother waiting for hours, without telling either of them that she still had fetal parts inside her. Gosnell insisted she was fine, even after signs of serious infection set in over the next several days. By the time her mother got her to the emergency room, she was unconscious and near death.
- A nineteen-year-old girl was held for several hours after Gosnell punctured her uterus. As a result of the delay, she fell into shock from blood loss, and had to undergo a hysterectomy.
- One patient went into convulsions during an abortion, fell off the procedure table, and hit her head on the floor. Gosnell wouldn't call an ambulance, and wouldn't let the woman's companion leave the building so that he could call an ambulance.
- Grand Jury Report

- Lynda Williams took over the job of cutting baby's necks when Gosnell was not there. Cross saw Williams slit the neck of a baby ("Baby C") who had been moving and breathing for approximately twenty minutes. Gosnell had delivered the baby and put it on a counter while he suctioned the placenta from the mother. Williams called Cross over to look at the baby because it was breathing and moving its arms when Williams pulled on them. After playing with the baby, Williams slit its neck.

When asked why Williams had killed the baby, Cross answered:

Because the baby, I guess, because the baby was moving and breathing. And she see Dr. Gosnell do it so many times, I guess she felt, you know, she can do it. It's okay.
- Adrienne Moton also killed at least one baby by cutting its spinal cord. Cross testified that a woman had delivered a large baby into the toilet before Gosnell arrived at work for the night. Cross said that the baby was moving and looked like it was swimming. Moton reached into the toilet, got the baby out and cut its neck.
- Grand Jury Report

---------

LaToya Ransome says she barely survived an abortion by a Philadelphia doctor who is now charged with murder.
----------
- FIFTEEN-YEAR-OLD Robyn Reid didn't want an abortion. But when her grandmother forcibly took her to an abortion clinic one wintry day in 1998, Reid figured she'd just tell the doctor her wishes and then sneak away.
Instead, Kermit Gosnell barked: "I don't have time for this!" He then ripped off her clothes, spanked her, wrestled her onto a dirty surgical stretcher, tied her flailing arms and legs down and pumped sedatives into her until she quit screaming and lost consciousness, she told the Daily News yesterday.
Reid said she tried to report Gosnell.
"I called all kinds of 1-800 numbers, abortion hot lines. Not one person I talked to could give me any advice on what to do about the doctor," said Reid, now 28, of Northeast Philadelphia. "I was 15; I didn't know what else to do."
- Nicole Gaither got an abortion from Gosnell in 2001. After four days, she said, the pain was so bad she could barely walk. She returned to the clinic, where, she said Gosnell blithely told her he'd left fetal remains in her.
"Stand up! It don't hurt that bad!" he yelled at her, she said, before suctioning - without any medication - her insides.
"It was my first - and last - abortion. I didn't know it [Gosnell's treatment of her] wasn't OK," said Gaither, now 38, of Southwest Philadelphia.
Gaither, who was about five months pregnant when she had her abortion, shudders when she wonders whether Gosnell kept any macabre mementos from her experience there.
- In 2001, Davida Johnson changed her mind about aborting her 6-month fetus after seeing Gosnell's dazed, bloodied patients in his recovery room, she said. But in the treatment room, Gosnell's staffers ignored her protests, smacked her, tied her arms down and sedated her into unconsciousness, she said. She awoke no longer pregnant.
Weeks later, she said, she was diagnosed with a venereal disease that she believes she contracted from unsterilized equipment Gosnell used. Now, she can't carry a baby to term and said she has miscarried four times since her abortion.
- Daily News/Philly.com

------------
- James Johnson, the common-law husband of Gosnell's sister-in-law, testified on April 14, 2013 that he worked as a janitor, maintenance man and plumber in Gosnell's clinic. His job was to collect abortion remains and take them to basement - but he eventually refused to participate and bags began piling up.
He told the jury toilets backed up one-two times a week and said he opened the outside clean out pipe and fetal parts such as babies' arms came spilling out. Johnson said he scooped up body parts with shovel and put them in a bag that was taken to rat infested basement. Johnson said a cat kept at the Gosnell clinic was there to deal with rat infestations that kept happening. He said the cat pooped in plants all over clinic.
The Gosnell clinic had a practice of making women dispose of the aborted babies body in the toilet and, as the grand jury report indicated: "[Patients] did not know inducing the labor and severing the spinal cords of live babies was going to happen." The report stated that "All afternoon and evening, as patients woke and complained of pain, workers would continue to medicate them with injections of sedatives. Between doses, the staff would leave the patients largely unattended. This would go on until the doctor arrived, some six or more hours after the patient did, or until the woman delivered." - LifeNews

----------

380 Criminal Charges Went to Jury Deliberation

Four Remaining First Degree Murder Counts

Baby Boy A was the biggest baby that Kareema Cross had ever seen delivered at Gosnell's abortion "House of Horrors" clinic in the four years she worked there. He was delivered to 17-year-old Shaquana Abrams at 29.4 weeks gestation, according to an ultrasound record. Baby Boy A was so large, he did not fit into the plastic shoe box that Gosnell tossed him in. Cross said she saw the baby pull in his arms and legs while Gosnell explained the movements as "reflexes" telling her the baby really didn't move prior to cutting the baby's neck. Baby Boy A was so large, Gosnell joked that "this baby is big enough to walk around with me or walk me to the bus stop." Cross and fellow employees Adrienne Moton and 15-year old Ashley Baldwin were all so "startled" by the size of the baby that they all took photos of the baby with their cell phones.
Baby C was an intact baby of over 25-weeks gestation. Kareema Cross testified that she saw Baby C breathing and described the up and down chest movements she observed for 20 minutes. She told the court she saw Lynda Williams lift the baby's arm and watched as the newborn drew it back on its own power. Afterwards, Williams inserted surgical scissors into the baby's neck and "snipped" the spinal cord. Gosnell was said to be in the room at the time. This baby's murder charges were unintentionally dismissed in the place of Baby F, but were reinstated after Judge Minehart discovered his error.
Baby D was described by witnesses as 12-15 inches long with the head the size of a "big pancake" when he was delivered into a toilet. Kareema Cross testified that she saw the baby struggling, using swimming motions in an attempt to get out of the toilet bowl. Adrienne Moton pulled the baby out and "snipped" the neck, as Gosnell had taught her to do, while the mother watched. Gosnell has also been charged with Criminal Solicitation of Moton to commit murder of Baby D.
Baby E was estimated to be at least 23 weeks gestation and maybe more. After Baby E was delivered, teen Ashley Baldwin heard the baby cry and called Kareema Cross for help. Cross described the baby's cry as a "whine." Baldwin said that Gosnell when into the room then came out with the baby — which now had an incision in its neck — and tossed it into the waste bin.
Mongar Murder Count Still Active
Gosnell also still faces one Third Degree Murder charge in the drug overdose death of second-trimester abortion patient Karnamaya Mongar. Witnesses testified that Mongar was not breathing right but Gosnell completed the abortion before attempting to revive Mongar. A defibrillator present in the room at the time was broken and unusable. Gosnell also faces several other charges related to the death of Mongar, including Murder by Drug Delivery Resulting in Death.
Continued below....
by
Add your quick reply below:
You must be a member to reply to this post.
Replies (1-3):
Add your quick reply below:
You must be a member to reply to this post.