Recipes for Busy Moms
Chicken Noodle Casserole - Freezer Friendly & Budget Friendly
So I made 5 double batches of this today for my freezer meal swap. This recipe fits an 8x8 dish. I doubled to make 13x9 dishes. It came out to $8.45 per double batch, which included the disposible pans I am using to freeze the meals which were $1.80 each! Each pan is 6-8 servings so that would be approximately $1.20 per serving! I used two whole chickens for the 5 meals which was cheaper than using chicken breasts.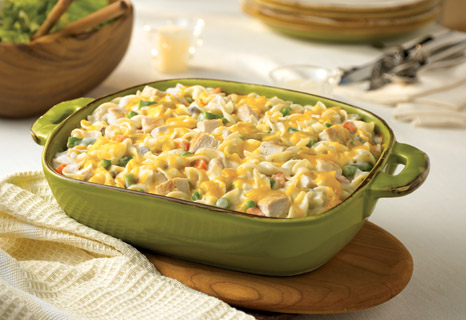 1 can (10 3/4 ounces) Campbell's® Condensed Cream of Mushroom Soup (Regular or 98% Fat Free) I use cream of chicken
1/2 cup milk
1 cup frozen mixed vegetables
2 cups cubed cooked chicken
1/4 of a 12-ounce package medium egg noodles (about 2 cups), cooked and drained
1/4 cup grated Parmesan cheese
1/4 teaspoon ground black pepper
1/2 cup shredded Cheddar cheese
Stir the soup, milk, vegetables, chicken, noodles, Parmesan cheese and black pepper in a 1 1/2-quart casserole.
Bake at 400°F. for 25 minutes or until the vegetables are tender. Stir the chicken mixture. Sprinkle with the Cheddar cheese.
by
Replies (11-15):
Add your quick reply below:
You must be a member to reply to this post.