Recipes for Busy Moms
Ingredient of the Week, July 1: Ribs
Spare ribs are the traditional slab of ribs. They come from the belly of the hog along the side and behind the shoulder. They include 11 to 13 long bones. There is a covering of meat on top of the bones, and between them, and they are the least expensive cut of ribs. You may have heard of St. Louis style ribs and Kansas City style ribs. These are merely variations on spare ribs, and refer to the way the slabs are trimmed. St. Louis style has the brisket bone removed, while Kansas City style are trimmed even more having the hard bone removed. Once spare ribs have been trimmed for resale they are sometimes referred to by aficionados as "three and a half and down." This refers to the fact that properly trimmed slabs rarely exceed 3-1/2 pounds, hence "3-1/2 and down."
Baby back ribs, sometimes called loin ribs, are cut from the loin section. They have a covering of meat over the bones, and also between them. They are shorter, smaller, leaner and considerably more expensive than spareribs.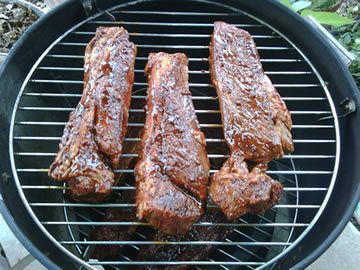 Country style ribs are actually not ribs at all, but are cut from the blade end of the loin, right behind the upper portion of the shoulder butt, and before the baby backs. They are more like fatty pork chops than ribs. While they have more fat per pound than any of the other styles of ribs, the fat is in layers and the meat between those layers is leaner and less marbled than most other ribs. They are the meatiest of all the ribs.
What Type is Best for Grilling and Barbecuing (smoking)?
The answer depends on a number of things, so lets discuss some of the differences. Spare ribs are by far the most economical, and they are the best suited for smoking. They have a higher percentage of fat content than babybacks, which explains both of the attributes. The higher fat content makes them less appealing to those consumers unacquainted with the joys of barbecuing (smoking), while at the same time makes them perfect for cooking low and slow. Barbecuing over low heat will render the fat while keeping the ribs moist.
Babybacks have the advantage of having superior flavor and less fat, and this makes babybacks more suited for grilling. They will cook faster and don't require long, slow cooking because their is so little fat. Having drawn these distinctions you should feel free to experiment. I have grilled spare ribs that were very tasty, and smoked babybacks that melted in your mouth, so remember, we're talking preferences, not absolutes!
Most serious barbecuers don't work with the country style ribs, preferring bone-in ribs. But because they have a higher fat content than pork chops I sometimes substitute them for chops when grilling. Prepare them the same way you would prepare chops for the grill, and I think you'll be so pleased you'll always want to use country style ribs instead of the leaner chops which can easily be overcooked, making them dry and tough. The country style ribs will be much more forgiving.
Selecting Your Spare Ribs
Babyback ribs are easier to select than spare ribs because they don't require as much trimming to begin with, and you mostly need to ensure that you select slabs of a uniform size and fattiness so that they all cook in about the same way, and amount of time. Spare ribs, however, need a bit more fussing over. First of all understand that the brisket bone is trimmed from the slab to make St. Louis or Kansas City style ribs for a reason. Unfortunately most supermarkets package the bone back in even after having trimmed to begin with (usually hidden out of sight under the slab.) This is mainly due to the economics of supermarket price margins, and they count on uneducated consumers settling for less.
You can always talk to the butcher at your supermarket to see if you can choose your slab before it's been packaged, but unless you are on a first name basis don't expect too much success. Supermarkets expect to sell those brisket bones and can't package them separately because no one would buy them. If there is a butcher shop in your area you can go there to get the slabs trimmed just the way you want them, but expect to pay a lot more as well. The best place I've found to get excellent St. Louis style spareribs is from one of the shopping clubs like Sam's Club, BJs or Costco. You have to buy them 8-10 pounds at a time but the cuts are of excellent quality, free of the brisket bone, and if it's too much simply freeze half of them for your next cookout.
What are your favorite type of ribs? Do you use a charcoal grill or gas grill or make them in the oven or crockpot?
by
Add your quick reply below:
You must be a member to reply to this post.
Replies (1-6):
Add your quick reply below:
You must be a member to reply to this post.