Recipes for Busy Moms
Recipe of the Week, July 8: Crepes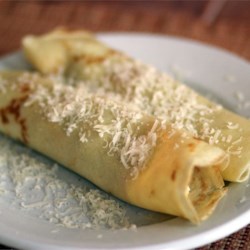 A crêpe or crepe is a type of very thin pancake. The word is of French origin, deriving from the Latin crispa, meaning "curled". While crêpes originate from Brittany, a region in the northwest of France, their consumption is widespread in France. In Brittany, crêpes are traditionally served with cider. Crêpes are served with a variety of fillings, from the most simple with only sugar to flambéed crêpes Suzette or elaborate savoury fillings.
Crêpes are made by pouring a thin liquid batter onto a hot frying pan or flat circular hot plate, often with a trace of butter on the pan's surface. The batter is spread evenly over the cooking surface of the pan or plate either by tilting the pan or by distributing the batter with an offset spatula. There are also specially designed crêpe makers with a heatable circular surface that can be dipped in the batter and quickly pulled out to produce an ideal thickness and evenness of cooking.

Common savoury fillings for crêpes served for lunch or dinner are cheese, ham, and eggs, ratatouille, mushrooms, artichokes, and various meat products.

When sweet, they can be eaten as part of breakfast or as a dessert. They can be filled and topped with various sweet toppings, often including Nutella spread, preserves, sugar (granulated or powdered), maple syrup, lemon juice, whipped cream, fruit spreads, custard, and sliced soft fruits.
Crepes
1 cup all-purpose flour
2 eggs
1/2 cup milk
1/2 cup water
1/4 teaspoon salt
2 tablespoons butter, melted
Optional: for sweeter crepes add 1/2 cup sugar
1. In a large mixing bowl, whisk together the flour and the eggs. Gradually add in the milk and water, stirring to combine. Add the salt and butter, and sugar, if using; beat until smooth.
2. Heat a lightly oiled griddle or frying pan over medium high heat. Pour or scoop the batter onto the griddle, using approximately 1/4 cup for each crepe. Tilt the pan with a circular motion so that the batter coats the surface evenly.
3. Cook the crepe for about 2 minutes, until the bottom is light brown. Loosen with a spatula, turn and cook the other side. Serve hot.
Do you like crepes? Have you ever made them? If you've made pancakes, you can make crepes.
by
Add your quick reply below:
You must be a member to reply to this post.
Replies (1-5):
Add your quick reply below:
You must be a member to reply to this post.