Recipes for Busy Moms
Recipe of the Week, December 30: Hoppin' John
One of the more popular ways of cooking black-eyed peas is the dish called "Hoppin' John", a traditional African-American dish served on New Year's day for good luck.
There are almost as many theories as to how Hoppin' John got its name as there are ways to cook the dish. One story attributes the name to the custom of inviting guests to eat with, "Hop in, John." Another suggestion is that it is derived from an old ritual on New Year's Day in which the children of the house hopped once around the table before eating the dish. Whatever its origin, it was definitely a staple for many in the early South, and remains an important dish today.
Hoppin' John
1 pound dried black-eyed peas
1 pound spicy bulk pork sausage
1 large onion, chopped
2 garlic cloves, minced
2 quarts water
2 tablespoons crushed red pepper flakes
1 1/2 teaspoons fresh ground white pepper
1 1/2 teaspoons salt
4 cups beef broth, homemade or canned
2 tablespoons unsalted butter
3 cups long-grained rice
garnish if desired: diced tomatoes and sliced green onion.
In a large saucepan, bring the peas and water to a boil over high heat. Boil for 1 minute. Remove the pan from the heat, cover tightly, and let stand for 1 hour. (Or in a large bowl, combine the peas with enough cold water to cover by 3 inches, and let stand overnight at room temperature.) Drain well.
In a 5-quart Dutch oven, cook the sausage, onion, and garlic over medium heat, stirring often to break up the sausage, until it loses its raw look, about 10 minutes. Pour off all excess fat.
Add the drained peas, water, and red and white peppers. Bring to a boil, reduce the heat to low, and simmer, covered, until the peas are tender, about 1 1/4 hours. Stir in 1/2 teaspoon of the salt.
Meanwhile, bring the beef broth, butter, and remaining 1 teaspoon of salt to a boil in a medium saucepan over high heat. Add the rice, reduce the heat to medium-low, and simmer, covered, until the rice is tender and the liquid has been absorbed, about 20 minutes. Fluff the rice and transfer it to a deep serving bowl.
Pour the peas over the rice, mix well, garnish if desired and serve immediately.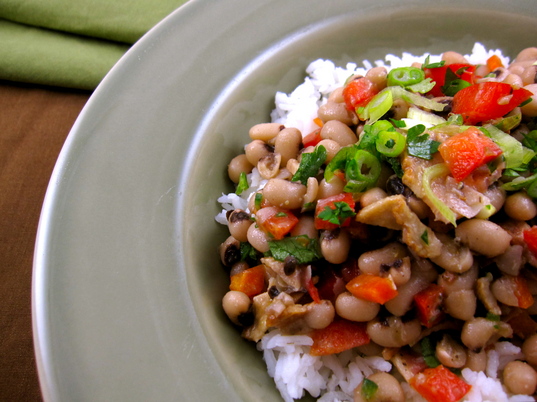 Do you make Hoppin John for New Year's Day? If so, how do you make it?
by
Add your quick reply below:
You must be a member to reply to this post.
Replies (1-10):
Add your quick reply below:
You must be a member to reply to this post.