Heart Healthy Chicken Chili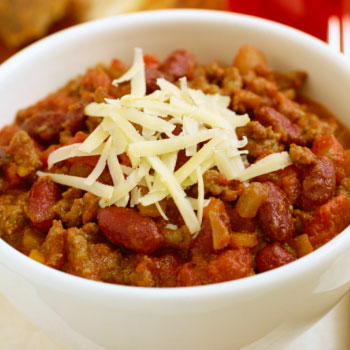 Some like it hot... and those are the folks who will fall in love with this chili chicken dish. Prepared with ground chicken, your guests won't be able to tell the difference. For a dinner that's poultry in motion, chili out with our gourmet meal.
Ingredients

2 lb. ground chicken 1 (28 oz.) can diced tomatoes with juice 2 (5 1/2 oz.) cans tomato paste 1 (19 oz.) can red kidney beans, drained and rinsed 3 garlic cloves, minced 1 large cooking onion, chopped 1 large red pepper, chopped 1 large green pepper, chopped 2 stalks celery, chopped (hearts) Non-fat cooking spray 3 tbsp. chili powder 1/4 tsp. fresh ground pepper 1/4 cup non-fat chicken broth or water Crushed red pepper flakes (optional)
Methods/steps
Brown ground chicken in a non-stick skillet and set aside. Drain any fat. Spray a large non-stick Dutch oven or pot with cooking spray and heat to high. Sauté onion 3minutes. Add the red and green peppers, celery and garlic, continue to sauté for another 3 minutes. Add the tomato paste and heat 1 to 2 minutes, stirring continuously. Pour a little chicken broth (1/4 cup) or water into the pan to deglaze it. Mix the ground chicken with the vegetable mixture and add the tomatoes with their juice, beans and chili powder. Simmer uncovered until chili reaches your preferred consistency and then cover and continue cooking for 2 to 3 hours. Add the black pepper and adjust seasonings to taste
by
Add your quick reply below:
You must be a member to reply to this post.
Replies (1-5):
Add your quick reply below:
You must be a member to reply to this post.