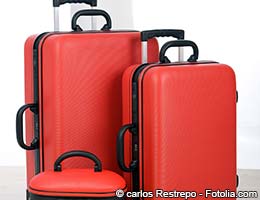 Another item that's often full price in January: luggage.
"It's not a good time to buy," says Sharon Banfield, director of public relations for PriceGrabber.com.
Expect better deals: "in March, in time for spring break and April, in time for vacations," says Banfield. And in spring, people already are planning summer vacations, "so luggage is on sale," she says.
You save 20 percent to 25 percent, on average, if you wait, she says.
Or hit a Presidents Day sale and save 20 percent to 40 percent if you combine sales and coupons -- or get extra markdowns on merchandise that got its first price cut during January sales, says Hillary Mendelsohn, author of "thepurplebook" online shopping series and founder of ThePurpleBook.com.
What is on sale in January: winter clothing.
"Retailers want to clear their inventories for all the spring collections," says Banfield. "Depending on the retailer, you can find 40 (percent) to 50 percent off."
And coats and sweaters will be especially good buys, she says. "It's going to be picked over. But if you feel like waiting and if those gift cards are burning a hole in your pocket, you can find some substantial savings."