Tampa School Massacre Thwarted
Tampa School Massacre Thwarted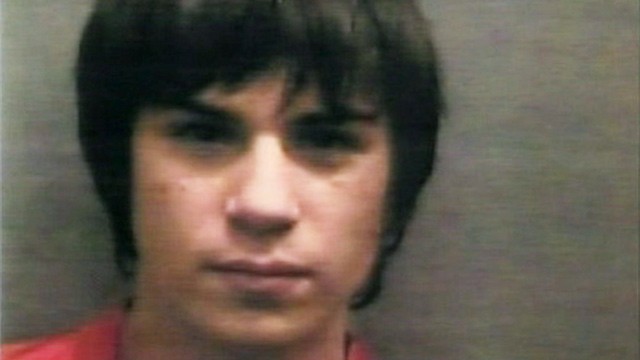 Tampa Police say they have thwarted a Jared Cano's "catastrophic" plot to blow up a school on the first day of classes, Wednesday, Aug. 17, 2011. (WFTS/ABC News)
By RESHMA KIRPALANI
Aug. 17, 2011
A Tampa teenager has been arrested and charged with plotting to kill two school officials and 30 students with bombs on the first day of school scheduled for next week in what would have been the most serious school attack since the Columbine massacre.
Jared Cano, 17, wrote a manifesto that detailed his plans for his attack starting at 5 a.m. next Tuesday, Police Chief Jane Castor said at a news conference today. The manifesto allegedly included information about the layout of Freedom High School in Tampa, Fla., and where exactly Cano was planning to place bombs in the school. Castor also said they recovered bomb making material from his home including fuses, timers, shrapnel, accelerant and plastic tubing. No firearms were found in his family's apartment, police said.
The arrest on Tuesday came just hours after someone alerted police about Cano's alleged plot, Castor said. The tipster's identity has been kept confidential but that person was praised today as a "hero." "It's someone who had information and they felt strongly enough to call the Tampa Police Department," Castor said.
Police said that Cano specified in his manifesto his goal of surpassing the number of students who were killed and injured during the 1999 Columbine High School massacre. On April 20, 1999, Columbine High School seniors Eric Harris and Dylan Klebold, wielding automatic weapons, slaughtered 12 students and one teacher. Another 24 were wounded in the 45 minute rampage.
Plot for Tampa School Massacre Uncovered
Cano is the latest student to express admiration for the Columbine killers. Seung-Hui Cho sent a tape praising Klebold and Harris before going on a shooting spree at Virginia Tech that left 33 people dead in 2007.
The teen's manifesto targeted two individuals "in the administration at Freedom High School," both of whom have been alerted that they were target, the chief said. Cano expressed feelings of "ill will" towards both of them in the manifesto. He also targeted 30 students for death, the police said. The manifesto detailed his minute-by-minute plan of attack, starting at 5 a.m. next Tuesday. It included the layout of Freedom High School and where exactly Cano was planning to place bombs in the school, Castor said.
Police said they have no reason to believe that anyone else was involved in the bomb plot. They reported that the family, who have been cooperative, did not know that their son had materials to build a bomb in his room. Cano has been charged with threatening to throw, project, place or discharge a destructive device. He also faces charges for possession of bomb-making materials, cultivation of marijuana, possession of drug paraphernalia and possession of marijuana. Cano has been arrested in the past, police said, and has an "extensive criminal record." His most recent arrest was for burglary. Castor said the arrest also involved the possession of a firearm.
In response to Cano's mental status, Castor only said, "we are not in the business of diagnosing the mental health of an individual."
But Cano's recent facebook status messages may indicate emotional disturbance. "My life stays on repeat its gettin old :/" he posted on Monday at 12:11a.m. Under his favorite quotations on facebook, he listed, "lessons not learned in blood are soon forgotten."
Tampa Student Had Manifesto for Murder: Cops
Cano also admitted to his use of marijuana on his facebook profile, posting "i love me some weed haha" on Aug. 13 at 11:45a.m. But on Tuesday, Cano posted to his wall, "i jut did the dumbest thing ever!"
According to Lewis Brinson, assistant superintendent for administration of Freedom High School, Cano was removed from that school due to "inappropriate behavior" over a year and a half ago. While his inappropriate behavior may not occurred on campus, Brinson said, they may have had an impact at school.
Brinson said school will open on Tuesday as scheduled, with counselors available to students if necessary. Electronic messages have also been sent out to parents of students informing them that the school is working with the Tampa Police Department to keep the school safe.
Who's failing young white males? What causes them to want to kill innoncent people in large numbers?
by
Replies (1-10):
This post has been locked, replies are no longer allowed.