Healthy Moms
Recipe: Citrusy Shrimp 
with Asparagus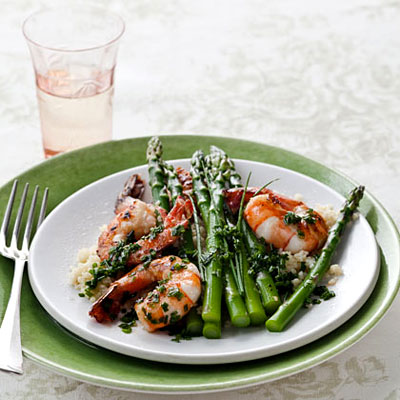 Shrimp, packed with omega-3s, vitamin D, and vitamin B12, is paired with the earthy, nutrient-dense veggie for some serious guilt-free summer grilling. And who needs butter when citrus adds that summery kick?
Calories: 282
Prep: 10 minutes; Cook: 6 minutes.

Yield: Makes 4 servings (serving size: 4-5 shrimp, 1 cup couscous, and about 7 asparagus stalks)
Ingredients
2 cups water
1 cup dried couscous
1/2 teaspoon sea salt, divided
1/2 teaspoon black pepper, divided
4 tablespoons fresh lemon juice, divided
3/4 pound raw large shrimp (about 18), peeled and deveined
1 tablespoon fresh lime juice
3 1/2 teaspoons extra-virgin olive oil, divided
2 minced garlic cloves
Olive oil cooking spray
3/4 pound asparagus spears, trimmed
1 teaspoon honey
1/4 cup chopped chives
Preparation
1. Bring 2 cups water to a boil in medium saucepan. Remove from heat, and stir in couscous; cover and let stand for 5 minutes. Fluff with a fork; stir in 1/4 teaspoon each salt and pepper and 1 tablespoon lemon juice.
2. Bring another pan of water to a boil.
3. Meanwhile, toss shrimp in 1 tablespoon each lemon and lime juice, 1 1/2 teaspoons olive oil, garlic, and remaining 1/4 teaspoon salt and pepper. Marinate for 5 minutes.
4. Preheat grill pan or grill. Lightly coat with cooking spray; grill shrimp, turning once, 3 minutes or until just cooked through. Cover and keep warm.
5. When water is boiling, add asparagus, and cook 3 minutes or until just tender. Drain, and cover.
6. Whisk together honey, chives, and remaining lemon juice and olive oil.
7. Arrange couscous and asparagus on serving plates, and top with shrimp. Drizzle with dressing.
by
Add your quick reply below:
You must be a member to reply to this post.
Replies (1-3):
Add your quick reply below:
You must be a member to reply to this post.