Healthy Moms
Recipe: Roasted Vegetable Lasagna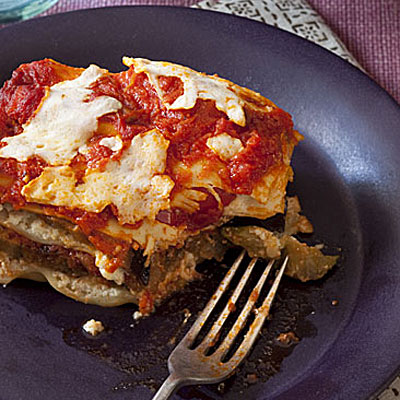 Use leftover roasted veggies in this simple baked pasta dish. Even though it contains three types of cheese, using low-fat varieties keeps the total fat to just 12 grams per serving.
Calories: 391
Prep Time:
Cook Time:
Total Time:
Yield: Makes 6 servings (serving size: 1/6 of lasagna)
Ingredients
1 1/2 cups part-skim ricotta cheese
3 tablespoons finely grated Parmesan cheese
2 large egg whites
2 garlic cloves, minced
1/2 cup chopped fresh basil
3 cups jarred marinara sauce
7 (6 3/4- x 3 1/2-inch) no-boil lasagna noodles (use 1 noodle to fill in gaps)
3 cups leftover roasted vegetables
1/2 cup coarsely grated part-skim mozzarella cheese
Preparation
1. Preheat oven to 375°. Stir together first 5 ingredients (through basil).
2. Spoon 1 cup marinara sauce into bottom of an 8-inch-square glass or ceramic baking dish. Top with 2 noodles. Spread 3/4 cup cheese mixture over sauce to cover evenly. Arrange 1 1/2 cups roasted vegetables in 1 layer. Spoon 3/4 cup sauce over vegetables, top with 2 noodles, remaining 3/4 cup cheese mixture, 1 1/2 cups vegetables, 2 noodles, and remaining 1 1/4 cups sauce. Cover with foil, and bake for 20 minutes.
3. Remove foil, and sprinkle top with mozzarella. Bake in middle of oven for 20 minutes more or until cheese is melted, sauce is bubbling, and noodles are tender.
4. Let cool for at least 15 minutes before cutting into pieces; serve.
by
Add your quick reply below:
You must be a member to reply to this post.
Replies (1-3):
Add your quick reply below:
You must be a member to reply to this post.