Healthy Moms
Recipe: Roast Dijon Chicken and Vegetables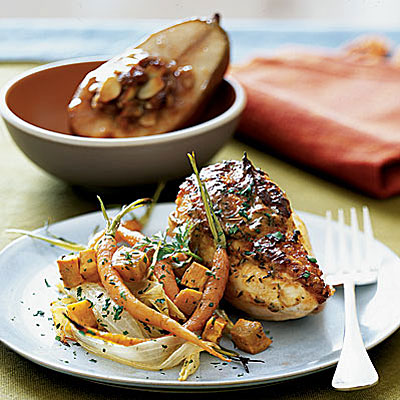 Perfect for cooler weather, this dish uses Dijon mustard to add a kick to the roasted chicken. Sweet potatoes, carrots, and other seasonal veggies are low in fat and offer fall flavors.
Calories: 284
Prep: 15 minutes; Cook: 35 minutes.

Yield: 4 servings (serving size: 1 breast and 1 cup potato mixture)
Ingredients
1 1/2 tablespoons Dijon mustard
1 teaspoon dried thyme, divided
4 chicken-breast halves
3/4 teaspoon salt, divided
Cooking spray
3 cups (1/2-inch) cubed peeled sweet potato or Red Bliss potato
2 cups baby carrots (about 7 ounces)
1 large Vidalia or other sweet onion, cut into 12 wedges
1 tablespoon olive oil
1/2 teaspoon freshly ground black pepper
1 tablespoon chopped fresh parsley
Preparation
1. Preheat oven to 475°.
2. Combine mustard and 1/2 teaspoon thyme in a small bowl. Sprinkle chicken with 1/4 teaspoon salt. Heat a skillet coated with cooking spray over medium-high heat. Add chicken, skin side down; cook 5 minutes or until browned. Turn and cook an additional 3 minutes or until lightly browned. Remove chicken; spread mustard mixture evenly over skin side of each breast.
3. Combine potato, carrot, onion, oil, 1/2 teaspoon thyme, 1/2 teaspoon salt, and pepper. Place on a broiler pan coated with cooking spray.
4. Bake at 475° for 10 minutes. Stir potato mixture; place chicken, skin side up, over potato mixture. Bake an additional 15 minutes. Sprinkle with parsley.
by
Add your quick reply below:
You must be a member to reply to this post.
Replies (1-6):
Add your quick reply below:
You must be a member to reply to this post.