Meal Planning
Recipe of the Week: May 6: Crepes
Just in time for Mother's Day. These are so easy to make, but taste great. Fill them with fruit or other fillings.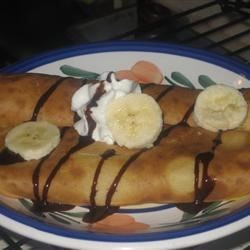 Crepes
2 eggs
1/2 cup milk
1/2 cup water
1 cup all-purpose flour
1/4 teaspoon salt
1 teaspoon sugar
1 teaspoon vanilla
2 tablespoons butter, melted

1. In a large mixing bowl, whisk together the eggs, milk and water. Gradually add in the flour, stirring to combine. Add the salt. sugar, vanilla and butter; beat until smooth.
2. Heat a lightly oiled griddle or frying pan over medium high heat. Pour or scoop the batter onto the griddle, using approximately 1/4 cup for each crepe. Tilt the pan with a circular motion so that the batter coats the surface evenly.
3. Cook the crepe for about 2 minutes, until the bottom is light brown. Loosen with a spatula, turn and cook the other side. Serve hot.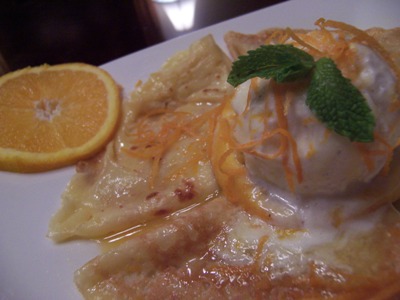 Classic Crepes Suzettes

4 tablespoons butter
¼ cup sugar
Juice of 6 oranges; zest from one
Extra whole orange for garnish
3 tablespoons of orange liqueur (We use Grand Marnier)
3 tablespoons cognac (optional)


Melt butter in large skillet over medium heat. Stir in the sugar, zest, juice, and liqueur. Stirring constantly, reduce sauce to ⅔ cup.
Very delicately add each crepe to the pan—one at a time—and coat it in the sauce. (We used a fork rather than a spatula for this.) Fold each one in quarters, and arrange three on each plate, repeating until each crepe has been dipped and plated. You may overlap them or arrange in a circle as we did in the picture above, with a scoop of ice cream in the middle and extra sauce over the top. Scrap up the extra bits of orange zest and add orange slices as your garnish.
Adults only: If you wish to flambé the sauce, reserve two tablespoons and add three more of brandy. Stir together and remove the pan from the heat. Ignite with a match and pour the flaming sauce over the crepes. Important Note: You should only ignite the sauce using a metal pan; do not use a non-stick pan. Please exercise due caution and remove all flammable materials (dishcloths, etc) from the work area.

Read more: http://www.world-of-crepes.com/crepes-suzette-2.html#ixzz1u6LPsuje
Other Fillings:
Strawberry Cream
2 cups sliced strawberries
1/4 cup sugar
1 (8 ounce) package cream cheese, softened
1/4 cup powdered sugar
Combine the strawberries and sugar and chill, anywhere from an hour to overnight.
Drain excess water from strawberries and sugar.
In mixing bowl blend cream cheese and powdered sugar until smooth.
Stir in reserved strawberries.
by
Add your quick reply below:
You must be a member to reply to this post.
Replies (1-9):
Add your quick reply below:
You must be a member to reply to this post.