Meal Planning
Ingredient of the Week, July 8: Kiwifruit
Packed with more vitamin C than an equivalent amount of orange, the bright green flesh of the kiwifruit speckled with tiny black seeds adds a dramatic tropical flair to any fruit salad. California kiwifruit is available November through May, while the New Zealand crop hits the market June through October making fresh kiwis available year round.
The kiwifruit is a small fruit approximately 3 inches long and weighing about four ounces. Its green flesh is almost creamy in consistency with an invigorating taste reminiscent of strawberries, melons and bananas, yet with its own unique sweet flavor.
Native to China, kiwifruits were originally known as Yang Tao. They were brought to New Zealand from China by missionaries in the early 20th century with the first commercial plantings occurring several decades later. In 1960, they were renamed Chinese Gooseberries.
In 1961, Chinese Gooseberries made their first appearance at a restaurant in the United States and were subsequently "discovered" by an American produce distributor who felt that the U.S. market would be very receptive to this uniquely exotic fruit. She initiated the import of these fruits into the United States in 1962, but to meet what was felt to be burgeoning demand, changed its name from Chinese Gooseberry to kiwifruit, in honor of the native bird of New Zealand, the kiwi, whose brown fuzzy coat resembled the skin of this unique fruit. Currently, Italy, New Zealand, Chile, France, Japan and the United States are among the leading commercial producers of kiwifruit.
How to Select and Store
When selecting kiwifruits, hold them between your thumb and forefinger and gently apply pressure; those that have the sweetest taste will yield gently to pressure. Avoid those that are very soft, shriveled or have bruised or damp spots. As size is not related to the fruit's quality, choose a kiwifruit based upon your personal preference or recipe need. Kiwifruits are usually available throughout most of the year.
If kiwifruits do not yield when you gently apply pressure with your thumb and forefinger, they are not yet ready to be consumed since they will not have reached the peak of their sweetness. Kiwifruits can be left to ripen for a few days to a week at room temperature, away from exposure to sunlight or heat. Placing the fruits in a paper bag with an apple, banana or pear will help to speed their ripening process. Ripe kiwifruits can be stored either at room temperature or in the refrigerator.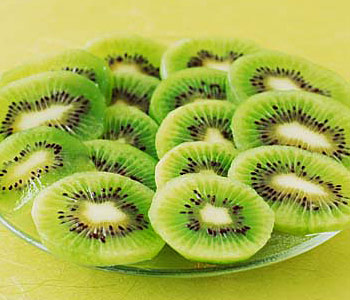 A Few Quick Serving Ideas:
Kiwifruit are so delicious, they can be eaten as is. One of our favorite ways to do so is to peel with a paring knife and slice.
Add kiwifruit to tossed green salads.
Serve sliced kiwifruit and strawberries, fruits whose flavors are naturally complementary, topped with yogurt.
Mix sliced kiwifruit, orange and pineapple together to make chutney that can be served as an accompaniment to chicken or fish.
Blend kiwifruit and cantaloupe in a food processor to make a chilled soup. For a creamier consistency, blend yogurt in with the fruit mixture.
Kiwifruit have a wonderful flavor and appearance for use in fruit tarts.
Do you like kiwifruit?
by
Add your quick reply below:
You must be a member to reply to this post.
Replies (1-9):
Add your quick reply below:
You must be a member to reply to this post.