Want to make NOURISHING foods this holiday season? Sign up for Real Food for the Holidays and get inspired with more than 175 recipes, 30 menu plans, and 30 practical videos for Thanksgiving, Hannukah, Christmas, and New Years (not to mention all those cookie exchanges and office parties).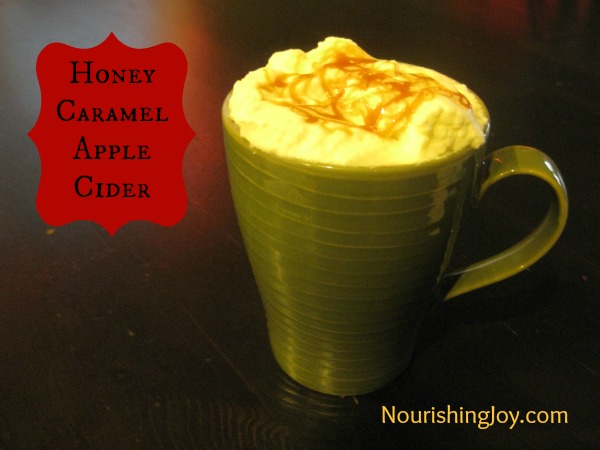 On autumn and winter evenings, life in our house gets cozy. Between the rain that pours down all autumn long and the crisp winter air that makes our noses and cheeks turn red, life is just better when we're all curled up with a warm drink under a warm blanket reading stories as the day draws to an end.
Tonight is no exception. It's Halloween and usually we go trick or treating to just a handful of houses – in our neighborhood there are hundreds of people trick-or-treating, so it feels like a true community event.
But this year it's raining, and so instead of traipsing from house to house, we're going to stay in and have an autumnal-themed party. Of course, this Honey Caramel Apple Cider tops the list for what we'll be drinking – it's been a favorite for years, as I'm an absolute sucker for anything caramel. (Hint: The Honey Caramel Sauce is fantastic as a dipping sauce for apple slices, too!)
This is a very simple recipe and making caramels out of honey is actually even easier than making them out of sugar. With sugar, you have to dissolve the sugar to create a boiling syrup and add the cream and butter at just the right temperature, but with honey, you can melt everything together and just let it boil until it's the right consistency.
Considering that I espouse eating as little sugar as possible, I find it interesting that a large percentage of my recipes here at Nourishing Joy are desserts and sweet treats. I'll chalk it up to the fact that I'm passionate about finding yummy, alternative ways to use nourishing ingredients – and the typically-laden-with-refined-sugars sweets are some of the easiest to tweak creatively.
This Honey Caramel Sauce is no exception – it's a treat, but by using honey we're at least balancing the intake of sugars with minerals and enzymes that are highly beneficial. I've also added mineral-rich coarse salt because I love salted caramel, but feel free to reduce or omit it according to your preferences.
Honey Caramel Apple Cider
Honey Caramel Sauce
makes about 1 1/4 cup
(You'll use only 1-2 tablespoons per mug of cider)
3/4 cup honey
1/2 cup heavy cream
2 tablespoons butter
1/2 teaspoon coarse unrefined sea salt
Apple Cider
per 2 quarts (8 cups)
2 quarts apple cider or apple juice, preferably unfiltered
1 cinnamon stick
5 whole cloves (optional)
For the sauce, place all ingredients in a heavy bottomed saucepan and bring to a boil over medium-high heat. Keep at a steady boil for 8-10 minutes, whisking regularly.
Reduce heat to medium and continue to simmer until the mixture just begins to coat the back of a spoon and begins to deepen in color to a dark golden brown, about 5 minutes. (If you want to get technical, pull it off the heat at 230° F, just before it reaches the soft-ball candy stage.)
Stir 1 tablespoon into each steaming mug of apple cider or pour into a bowl and let cool to room temperature for dipping with apple slices.
For the apple cider, place the cider and the spices in a large pot and heat over medium-low heat until you reach your desired temperature for sipping. Let sit on the heat as long as you like to fill your home with the delightful aroma of apples and warm spices.