Adding a delicious smoothie to your morning ritual can give you an energy boost and provide a healthy start to your day. I love creating new smoothie creations by adding nutritional ingredients to the fresh fruit I have on hand. To spark some smoothie inspiration, I've rounded up some of my favorite recipes for you to add to your smoothie-making arsenal. As with all all smoothie recipes, feel free to add your own flair and favorite ingredients to make it uniquely yours.
Avocado-Pear Smoothie
Full of folic acid, soluble fiber, and monounsaturated fatty acids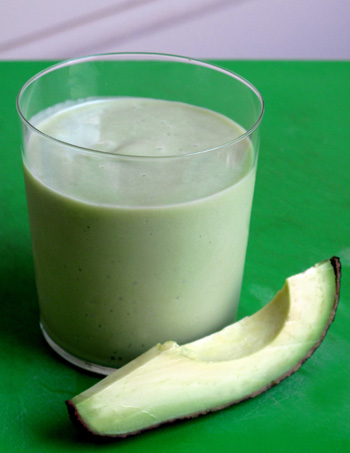 Avocado-Pear Smoothie
Ingredients
1 ripe, firm Hass avocado
1/2 cup (about 4 ounces) drained silken tofu
1 cup unsweetened pear juice
2 tablespoons honey
1/2 teaspoon pure vanilla extract
2 cups ice cubes
Directions
Cut avocado in half lengthwise; remove pit, then score flesh into cubes. With a large spoon, scrape flesh into a blender.
Add tofu, pear juice, honey, and vanilla, and puree until smooth. Add ice; blend until smooth.
Divide among four glasses, and serve.
Serves 4.
Nutritional information per serving: 164 calories, 1.1 g saturated fat; 5.8 g unsaturated fat; 0 mg cholesterol; 23.3 g carbohydrates; 2.3 g protein; 6.5 mg sodium; 3.8 g fiber.
Berry Celericious Smoothie
A vegetable disguised in a haven of fruit, this celery infused drink will add some extra bang to your morning routine.( from Victoria Boutenko's boo kGrenn for Life ), the powerful antioxidant breakfast in a glass packs potassium, vitamin K, magnesium, and fiber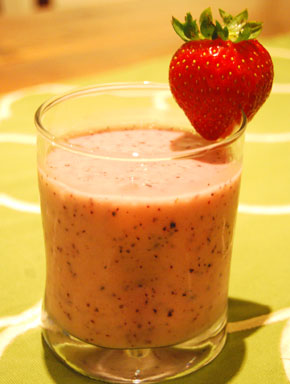 Ingredients
2 cups fresh blueberries
1 banana
1 stalk of celery
1 cup water
1 cup orange juice
Few cubes ice
Directions
Pour the orange juice and water into the blender with the banana and blend. Add the blueberries and celery and blend again. Finally, add the ice cubes for a smooth consistency.
Makes two servings.
Nutrition
Calories: 192 Carbs: 47 g Protein: 3g
Almond Berry Banana Yogurt Smoothie
Strawberries and blueberries are in season now, so stock up and use them to make this delicious yogurt smoothie. The fruit adds natural sweetness, and the Greek yogurt makes it rich and creamy. I like to add almonds to my smoothies because not only do they add fiber and protein, but they give the smoothie an interesting slightly crunchy texture.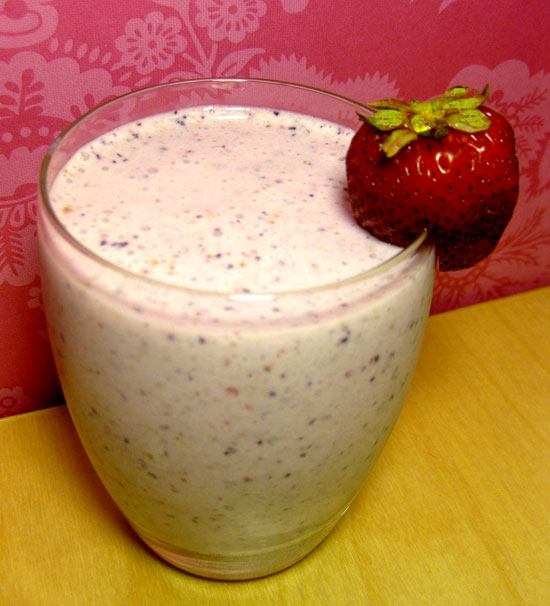 Recipe Ingredients
6 large strawberries
1 sliced banana
1 cup blueberries
6 ounces plain Greek yogurt
1 cup skim milk
1/4 cup almonds
Directions
Cut the tops off of five of the strawberries.
Place the strawberries, banana, blueberries, yogurt, milk, and almonds in a blender or food processor. Blend until smooth and creamy. Garnish with a strawberry.
Banana Ice Smoothie
bananas are high in potassium

To make this Banana Ice Smoothie:
Peel several very ripe bananas
Break them into 1-inch pieces
Freeze the pieces in a sealed plastic bag
Just before serving, put a few pieces in the blender with a small amount of water, juice or milk
Serve immediately
add berries for a different flavor or top with fruit or nuts
Nutty Chocolate Strawberry Banana Smoothie
If you're looking for a sweet treat, but don't want to sabotage your healthy goals with a high-calorie chocolate goodie, here's a recipe that's sure to satisfy your cocoa cravings. Made with chocolate soy milk, peanut butter, and Greek yogurt, this smoothie is full of protein, and the banana and strawberries add fiber and a hint of sweetness.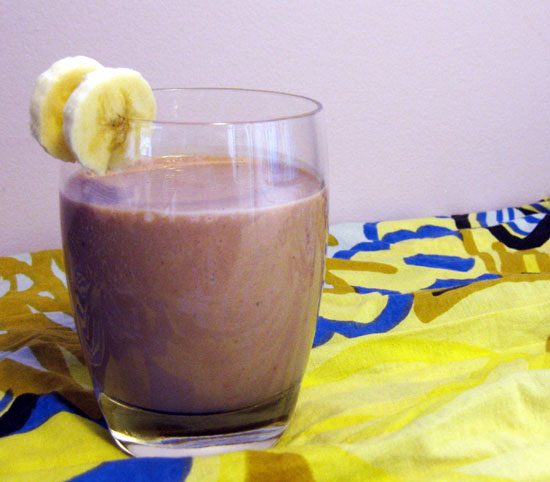 Ingredients
10 large strawberries
2 small bananas (fresh or frozen)
6 ounces plain Greek yogurt
1 cup chocolate soy milk
1 tablespoon peanut butter
Directions
Cut the tops off the strawberries.
Slice the bananas, and save four slices (to be used as garnish).
Place the strawberries, banana, yogurt, chocolate soy milk, and peanut butter in a blender or food processor.

Blend until smooth and creamy.

Pour into two glasses, garnish each with two slices of banana, and enjoy!
Green Smoothie
Ingredients
One handful of baby spinach
½ of a ripe avocado
½ of a banana
Juice from half a lime
Ice as desired
Filtered water as desired
Squeeze of lime for topping
Directions
Combine the ingredients into a blender. Any blender will do, though a high power blender makes the smoothies even creamier and more delicious. Add water and ice to thin or thicken as desired.
Make sure ice is fully blended and top with squeeze of lime if desired.
Serves one
Post-Workout Treat: Smoothie Bowls
It's a simple, refreshing, easy, and filling breakfast. It's exactly what it sounds like — a smoothie poured into a bowl instead of into a glass, and it is usually topped with granola, fruit, or other toppings. You eat it with a spoon, like cereal.
3 pieces of frozen banana
- 3 frozen strawberries
- 4 frozen blackberries
- 1/2 cup of skim milk
- scoop of ground Salba
- small scoop of chia seeds
- small bit of raw cacao nibs
- small scoop of peanut butter
- blended and topped with Bare Naked "Fit" Vanilla Almond Crunch granola
by
Add your quick reply below:
You must be a member to reply to this post.
Replies (1-2):
Add your quick reply below:
You must be a member to reply to this post.