The Family Piggy Bank
3 Ways to get a better hotel deal
I found this article on CNN. What ways to do you save on vacations?
3 ways to get a better hotel deal
@Money June 8, 2012: 3:02 PM ET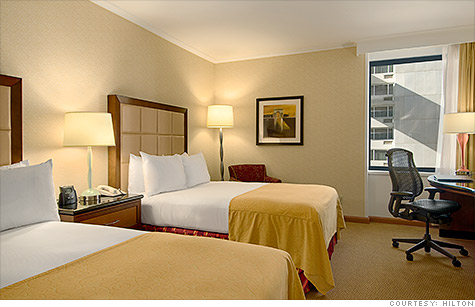 Save 15% in San Francisco.
(Money magazine) -- The price of a hotel stay, up 5% in 2011, is forecast to rise at an even higher rate this year. To get the best hotel value, use one of these strategies.
1. Dare to commit
Major chains will discount a room's price up to 20% if you pay your full, nonrefundable bill a week or two ahead of time.
A night at the Hilton San Francisco Union Square in July, for example, will run $220 -- 15% less than the hotel's best available refundable rate.
Get even better nonrefundable deals via flash-sale sites such as Jetsetter.com and Snique-Away.com; discounts of 30% or more are common, though the selections are unpredictable.
2. Go off the beaten path
A little distance can mean big savings.
Lissa Poirot of FamilyVacationCritic.com recommends looking for hotels on the outskirts of town with access to public transit.
Rather than stay in the heart of Washington, D.C., where a night at the Dupont Circle Hotel will cost $232, book the $127-a-night Hyatt Arlington across the Potomac in Virginia. Sitting atop a subway station, the hotel is only 10 minutes away, via the Metro system, from the Smithsonian Institution, the Washington Monument, and other landmarks on the Mall.
3. Add up the extras
Like airlines, hotels have gotten ambitious about tacking on fees. Get the big picture before you book, and look for package deals.
A June stay at Chicago's Amalfi Hotel, including breakfast, Wi-Fi, and valet parking, would run a couple $256 a night; a room at the nearby Hotel Sax was quoted at only $229, but the add-ons would cost another $100.
by
Add your quick reply below:
You must be a member to reply to this post.
Replies (1-10):
Add your quick reply below:
You must be a member to reply to this post.