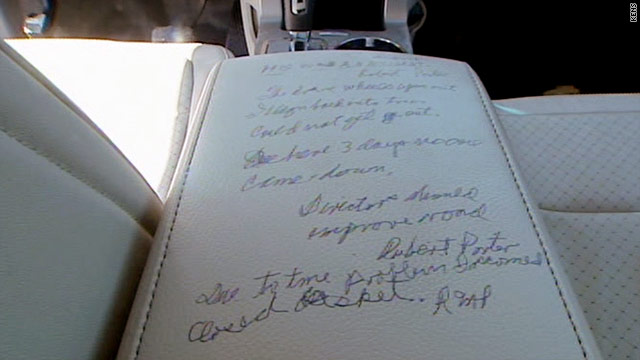 Stuck in a car on a rural Texas road, Robert Porter wrote what he thought would be his final words to his family.
An elderly Texas man who was trapped in his car for two days wrote what he thought was a farewell message on the car's armrest, saying he wasn't trying to kill himself and suggesting the road he was on should be fixed.
Robert Porter, 85, drove his car down a steep rural road near his Kerrville home in central Texas early last week to look at a pond. He couldn't get the two-wheel-drive vehicle back up the soft caliche road, and the car rolled off the path and became stuck near the bottom of a ravine, CNN affiliate KENS reported.
Porter, a World War II veteran who has a back injury and gets around with a wheeled walker, was without food and had only 8 ounces of water in a bottle. Knowing he could last only so long with temperatures in the 90s, he eventually grabbed a pen and started writing on his car's center armrest.
"One thing I wrote, the very first, was, 'This is an accident,' underlined. Because I was afraid somebody might think I committed suicide," Porter told KENS.
He wrote that the car's wheels had spun out, and he instructed his family to give him a closed casket at his funeral. He also wrote that his homeowner's association "should improve (the) road."
He told KENS that he was ready to die. "The last six hours, I was asking God to hurry up. You know?" Porter said.
Porter honked the car's horn until the battery died. On September 6, about 40 hours after the car became stuck, a neighbor saw the vehicle and Porter - dehydrated but alive - and called authorities, said Tom Vinger, spokesman for the Texas Department of Public Safety.
Vinger told CNN that Porter would have been unable to walk away, especially up the incline, because of his health problems. A tree near where the car came to rest gave Porter some crucial shade, Vinger said.
by
Add your quick reply below:
You must be a member to reply to this post.
Replies (1-10):
Add your quick reply below:
You must be a member to reply to this post.