Michelle Duggar Suffers Miscarriage
Michelle Duggar of 19 Kids and Counting Suffers Miscarriage
Thu., Dec. 8, 2011 3:30 PM PST by Natalie Finn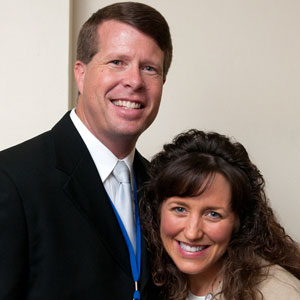 Kris Connor/WireImage
This is a sad day for every member of the Duggar family.
During what she thought would be a routine doctor's appointment,19 Kids and Counting matriarch Michelle Duggar learned that she had suffered a miscarriage in her second trimester.
She and husband Jim Bob Duggar had been looking forward to finding out the sex of what was going to be their 20th child together.
"Michelle is resting comfortably at home with the support of the entire family," Jim Bob tells E! News. "We are grateful for all the thoughts and prayers, but ask for privacy during this difficult time."
"We had just been talking about baby names last night, and they were getting excited about naming a boy or a girl," Michelle told People earlier. "It has been a real sad disappointment...I feel like my heart broke telling my children. They have all been so excited about this baby and looking forward to April coming around and having a new little one in our arms. That was the most difficult. The Lord is the giver of life and he can choose when that life is ready to go on and be with Him."
Michelle had previously suffered a miscarriage when pregnant for the second time back in the 1980s.
Her and Jim Bob's 19th child, daughter Josie Brooklyn-she'll be 2 on Saturday-was delivered via emergency C-section four months premature. Josie weighed only 1 pound, 6 ounces at birth and had to spend another four months in the hospital before she was healthy enough to go home-but mom and dad showed off their now-thriving toddler on Today recently and had said they were excited for No. 20.
**Please keep comments civil. I understand not all of us agree on their having more than 2 kids but let's be nice. ;)
by
Add your quick reply below:
You must be a member to reply to this post.
Replies:
There are no replies to this post.