Family Meal Solutions
slow cooker chicken & rice
Alright, lets get cooking!
~revs up the engine~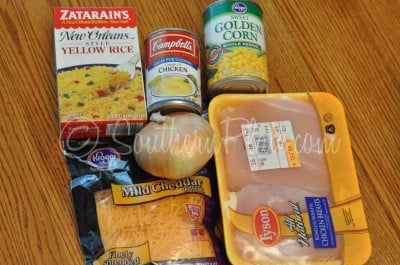 Hello easy!
You'll need: Yellow Rice*, Cream of Chicken, Whole kernel corn, onion, chicken breasts, and shredded cheddar cheese.
I love Zatarain's rice, one of my favorite meal helpers. If you want to use the lower fat cream soup that's fine in this. A lot of folks have been making my Slow Cooker Chicken and Wild Rice with cream of chicken because they don't care for cream of mushroom and that is great, too! Make it your own and tweak these recipes however they work best for your family.
Place your chicken breasts in the bottom of your slow cooker. Chop up onion and toss on the top.
Getting ready for my book tour, I made Ricky watch me do this. I kept telling him "Now you can do a slow cooker, its easy to cook supper if you just throw it all in and then finish it up when you get home from work. See how I'm doing this? See how simple this is?" He nods and feigns interest but who are we kidding? It'll be pizza and happy meals the whole time I'm gone…
Spoon or glob your cream soup over that.
Y'all don't be fooled by me using name brand soup here. I got it on sale. I'd use Timbuktoo brand if it saved me ten cents.
Now cover this and cook it according to the following:
Low – 7-8 hours
High 3-4 hours.
This is great to put on in the morning on the weekends if you cook it on high and then have a nice meal at lunchtime.
When it is done cooking, drain your corn and toss that in along with your cooked rice and cheddar.
You'll need to cook your rice before this step. What I like to do is cook my rice the night before and just stick it in the fridge. Then you can dump it in and stir it up and give it a minute or two to get heated. You can also cook your rice soon as you get home, though. It's still an easy and delicious supper!
Stir all of that up and give it a few minutes to get all heated and warm (this won't take long)
This stuff is to die for. Prepare for a happy landing in your stomach!
Slow Cooker Cheesy Chicken And Rice

Ingredients

4 boneless skinless chicken breasts
1 large onion, chopped (I use Vidalia)
1 -8 ounce box Zatarain's Yellow Rice Mix, cooked according to directions
1 cup cheddar cheese
1 - 10.5 ounce can cream of chicken soup (regular or fat free)
1 -15 ounce can whole kernel corn, drained

Instructions

Place chicken in bottom of slow cooker. Scatter chopped onion over top. Spoon cream soup over top of that. Cover and cook on low 7-8 hours or on high 3-4 hours. A few minutes before serving, add in cooked rice, corn, and cheese. Stir to combine. Serve hot.
by
Add your quick reply below:
You must be a member to reply to this post.
Replies (1-10):
Add your quick reply below:
You must be a member to reply to this post.