Family Meal Solutions
Mile High Banana Split Pie
Seems to me you could use one of the store-bought deep-dish graham crusts if you want. I'm not a dessert person, but I could really go for this.
No-Bake Mile High Banana Split Pie
Ingredients
Crust:

1 1/2 cups graham cracker crumbs
6 tablespoons butter, melted
1 tablespoons sugar

Filling:

8 ounces cream cheese, softened
1/4 cup sugar
8 ounces frozen whipped topping, thawed
2-3 bananas, sliced
1 (20 oz.) can pineapple tidbits, well drained
16 ounces strawberries, hulled and sliced

Topping:

2 cups frozen whipped topping, thawed
1/2 cup chopped nuts (pecans, walnuts, almonds, or a combination)
Hot fudge topping or chocolate syrup
Maraschino cherries
Instructions
Lightly grease a 9-inch deep dish pie pan. In a medium bowl, combine the graham cracker crumbs, melted butter and sugar.
Press the crumb mixture into the bottom and up the sides of the pie pan. Refrigerate for 10-15 minutes.
Meanwhile, beat the cream cheese with an electric mixer until light and fluffy. Mix in the sugar.
Fold in the whipped topping until thoroughly combined.
Spread the cream cheese mixture evenly into the graham cracker crust.
Arrange the banana slices over the filling, followed by the pineapple and strawberries.
Cover with 2 cups of whipped topping and smooth the top. Sprinkle with chopped nuts.
Drizzle the fudge or chocolate syrup over the top. (If using hot fudge, heat just until it can be drizzled, or you'll melt your whipped cream layer!). Garnish with maraschino cherries.
Refrigerate for at least 4 hours before serving.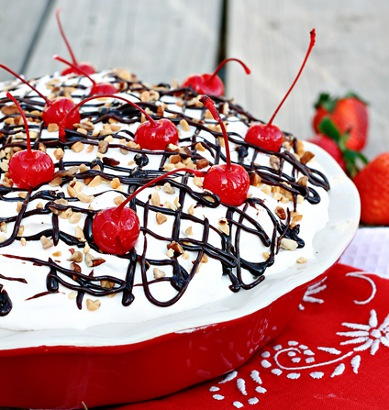 by
Add your quick reply below:
You must be a member to reply to this post.
Replies (1-4):
Add your quick reply below:
You must be a member to reply to this post.