Family Fun
Level of Difficulty: Moderate

Make this easy for preschoolers by making the dough and 'rolling' it into thin 'ropes' they can use the ropes to make what ever design they choose.

Here's what you'll need...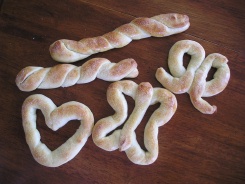 1 Tablespoon active dry yeast
(1 pkg)
½ cup lukewarm water
2 eggs, beaten
½ cup oil
1 cup milk
1 teaspoon salt
5 ½ cups all purpose flour
⅓ cup sugar
1 egg beaten
3 tablespoons coarse salt (optional)

Here's how to make them...
1. In a large bowl, dissolve the yeast in the lukewarm water and stir in the eggs, oil and milk.
2. In a separate bowl, combine all of the dry ingredients and then add to the egg and oil mixture.
3. Knead for 5-10 minutes until the dough is smooth and rubbery.
4. Roll the dough into ropes, about the diameter of an adults' pinky finger, and about 1-2 feet long.
5. Now it's time to be creative, make as many different pretzel shapes and designs you can. Place each shape on a greased (or parchment lined) baking sheet.
6. Brush the tops of each shape with egg and sprinkle with salt if you choose. Bake at 425F for 10-15 minutes. Then enjoy!!
by
Replies (21-21):
Add your quick reply below:
You must be a member to reply to this post.