Family Fun
Level of Difficulty: Moderate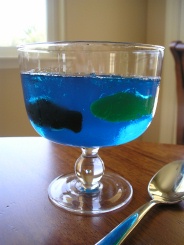 Here's what you'll need
• Individual sized clear bowls
• Blue gelatin dessert (like Jello)
• Medium sized bowl (to prepare gelatin in)
• Water
• Measuring cup
• Gummy fish
• Knife



Here's how you make it...
1. Prepare your blue gelatin dessert as directed on package. Pour into indiviual clear bowls. Place in the fridge until it has set (about 4 hours).
2. Once your Jello has set take a knife and make a slit all the way around each bowl, about 3/4" from the edge. Slide your gummy fish into the slits so they look like they're swimming in their bowl.
It may help to use your knife to hold open the slit so you can slide in the fish a little easier.
by
Replies (21-21):
Add your quick reply below:
You must be a member to reply to this post.