Family Fun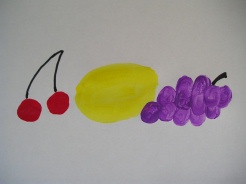 Here's what you'll need...
• Paints, any color you choose
• Powdered drink mix (unsweetened) like Kool-Aid
• Water
• Something to mix your paint in (egg carton or muffin tin works well).



Here's how to make it...
1. In a small container, mix 1 Tbsp of drink mix (this is an entire envelop of kool-aid) with 1 tsp of HOT water. Stir until the powder has dissolved.
2. Pour 1 tsp of paint into a small container (like an egg carton)and add 1/2 tsp of the powdered drink mixture to the paint, stir together well. Make as much paint as you'd like... for every tsp of paint add 1/2 tsp of your powdered drink mixture.
3. Repeat for each flavor of paint you'd like to use, be creative!
by
Replies (21-27):
Add your quick reply below:
You must be a member to reply to this post.