Mom Confessions
Gun Safety for parents who own guns
http://www.homegunsafety.com/forparents.htm
Special Parent Responsibilities
Parents already know that children are curious, and as such, can discover things that parents don't realize they can discover. Most parents remember when then had to childproof their home when their little ones first began crawling around. Nothing changed when the crawlers became toddlers, or kindergartners, or elementary school ages, or middle school aged, or even high school aged. Remember, children don't think like adults.
Parents need to know that children could find a gun when a responsible adult is not home, whether in your home or someone else's home. To avoid the possibility of an accident in such a situation, children should be taught to apply the following gun safety rules:
If they see a gun:
| | |
| --- | --- |
| | STOP! |
| | DON'T TOUCH. |
| | LEAVE THE AREA. |
| | TELL AN ADULT. |
The above 4 rules are parts of a special accident prevention program known as the Eddie Eagle Gun Safety Program. It was developed by the NRA for young children (pre-kindergarten through third grade), and uses the friendly character of Eddie Eagle to teach the children to follow Eddies four rules.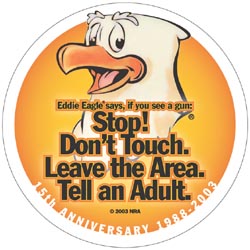 There are many Police Departments and Shooting Organizations that can provide the Eddie Eagle Gun Safety Program to any group at no cost. Cub Scouts, Brownies, Day Cares, 4 H Clubs, & Elementary School Classes are all examples or groups that the program can be given for. There are materials that are given to each of the children for their use and for review by parents by Eddie Eagle ( Usually someone dresses up in a Big Eddie Eagle Costume similar to those of Elmo or Barney the Dinosaur.) Parents usually need only make the request of their local Police Department.
It's up to the parent to decide when or if their children should be exposed to firearms. There are many Sportsman Clubs or Pistol and Rifle Clubs that sponsor Junior Shooting Teams that compete on a nationwide basis. Kids as young as 9 years old participate on these teams. Even if your children don't participate in a shooting team, it might be better to have your children develop a respect for firearms than not to.
by
Add your quick reply below:
You must be a member to reply to this post.
Replies (1-7):
Add your quick reply below:
You must be a member to reply to this post.