Mom Confessions
WTH?!
Jennie Scott, Florida Woman, Arrested For Allegedly Assaulting Boyfriend Over Bad Oral Sex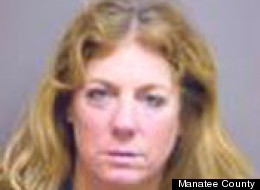 Police in Florida arrested an "extremely intoxicated" woman after she allegedly beat her boyfriend over bad oral sex.
The Smoking Gun reports that Jennie Scott, 50, assaulted her 32-year-old boyfriend, Jilberto Deleon at his home Dec. 27 following a joint-oral sex encounter that ended prematurely.
Scott told police that she became angry after Deleon "finished first and stopped pleasuring her."
Deputies responding to a report of a disturbance at Deleon's home encountered Scott punching and scratching her lover, and allege that she threatened him with a stick and a wrench.
The woman was arrested and placed in the Manatee County lock up.
In November, Raquel Gonzalez, also of Manatee County, was charged with felony domestic battery after beating her boyfriend following a sexual encounter during which he climaxed and she did not.
In 2010, a West Virginia woman was arrested after pulling a knife on two men who refused to perform oral sex on her at a motel.
http://www.huffingtonpost.com/2012/12/29/jennie-scott-florida-arrested-oral-sex_n_2381876.html?utm_hp_ref=mostpopular#slide=1511112

Posted by Anonymous on Dec. 31, 2012 at 11:27 PM
Add your quick reply below:
You must be a member to reply to this post.
Replies (1-10):
Add your quick reply below:
You must be a member to reply to this post.