Mom Confessions
Is the best husband.
I posted this in a smaller group of mine yesterday, but I'm still really giddy over it and haven't gotten over my need to tell everyone yet.
So.. our 1st wedding anniversary is coming up in a couple months. We had talked about wanting to do something but hadn't really made set plans.. just planned to make plans. So a couple night ago we were on the couch.. I was fucking around on the internet checking out what was going on around that time. THEN.. I got really excited.. then sad.. then SO FUCKING EXCITED. The conversation went like this:
"Babe!! Modest Mouse is playing a show the day before our anniversary at OMMEGANG!!"
"Oh. That's...awesome."
"ugh. But they sold out, already."
"Well. It's a good thing I bought tickets Friday morning then."
"Uhm... WHAT!?!?! You.. uh.. what? You did? You.....what?"
Gah! I'm so fucking excited I.. ahh!
The sweetest part is.. that Ommegang is the same venue we went to see the Avett Brothers at when we very first started dating. He went with me despite never having heard of the band and after getting his wisdom teeth removed less than a week before.

(see his poofy cheeks, I still love this picture anyway :) )


It was like.. our 2nd or 3rd date and it was pouring rain, and I got too drunk because I was worried about my beer getting watery. He drove me home and put me in the shower because my mouth was blue.. changed my clothes and put me to bed. I remember being seriously just smitten when I woke up that morning.
And I'm seriously smitten right now, and SO friggin excited. We're camping there that evening.. HOW did I score such a cool husband!?
This will surely be me all damn night: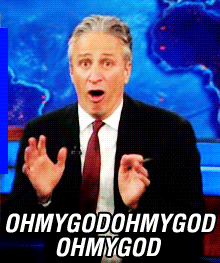 by
Add your quick reply below:
You must be a member to reply to this post.
Replies (1-5):
Add your quick reply below:
You must be a member to reply to this post.