News & Politics
Obama's Approval Rating Slips Again in April
05/ 01/13
People often get caught up in the daily fluctuations of President Obama's job approval. To see the bigger trends, Rasmussen compiles the numbers on a monthly basis.
The president's Total Job Approval Rating fell another 2 points from 52% in March to 50% - the lowest level since last September.
In April, 49% disapproved of the president's performance, up 2 points from May. Disapproval of Obama's performance stayed in the low to mid-50s from August 2009 until the election, and dropped to the low 40s in November but has inched up since.
In April, 27% of voters Strongly Approved of the president's job performance, down 2 points from 29% in March. Thirty-seven percent (37%) Strongly Disapproved of the job he's doing, down a point from the month before. This gives Obama a monthly Presidential Approval Index rating of -10 for April, his worst rating in a year.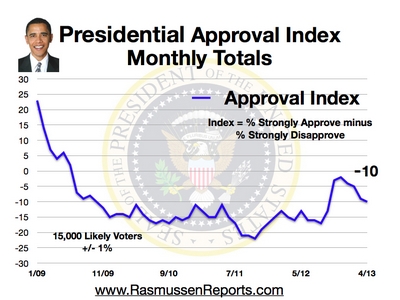 Democrats Strongly Approved of Obama's performance at 52%, down from 56% in March. Republicans Strongly Disapproved of the president's performance at 69%. Among independents, 17% Strongly Approved and 38% Strongly Disapproved.
Voters disapproved Obama's handling of job creation and small business. They have mixed feelings about gun control and immigration reform.
On the economy, most important issue to voters, the economy, voter confidence in Obama's handling of this issue has fallen back to pre-election levels.

by
Add your quick reply below:
You must be a member to reply to this post.
Replies (1-5):
Add your quick reply below:
You must be a member to reply to this post.