News & Politics
Worst President Ever, who is your choice?
This can be recent or historical Presidents.
My vote is on Andrew Jackson. This is mainly due to his views to African Americans during his time (horrid, I suggest you research it), Native Americans, and the economy. This is a great article that I found that puts some of this into perspective. For those who follow the link don't mind the bloggers list of top 5 worst Presidents. I don't agree with the list, only with the information given here on Jackson.
Indian Policy- When it comes to Indian affairs, there has been no shortage of presidential scoundrels. From George Washington to Zachary Taylor,several men (including Jackson) literally killed Indians on their way to the White House. During the nation's first century, a parade of presidents presided over a shockingly violent colonial conquest of the continent. So what sets Andrew Jackson apart?
Ethnic cleansing.
Though the term "ethnic cleansing" wasn't coined until the Yugoslav civil war of the 1990s, the practice is of course an old one. Jackson's so-called Removal policy of the 1830s was a textbook example: the forced depopulation of an indigenous ethnic group from a region (the American South) and the subsequent repopulation of that region with your constituents (EuroAmeicans). And while other presidents, such asThomas Jefferson, preceded him in designing and advocating ethnic cleansing polices, and even implementing them on a smaller scale, it was Jackson who pushed hardest and wrought the most damage.
Indeed, Andrew Jackson is nothing more than our very own Slobodan Milosevic. He actively and vigorously pursued ethnic cleansing policies that swept perhaps as many as a hundred thousand Indians from the American South, with tens of thousands dying in the process. Indeed, his policies are such a horrific stain on our history that popular assessments of him often minimize or overlook the Indian "removals" altogether. For example, Jackson's official White House website biography doesn't even mention his Removal policies! It's as if the mere mention would be too much for us to bear.
Economic Policies- For anyone with a conscience, Jackson's ethnic cleansings might be enough to mark him as the worst president ever. But nearly every president through the nineteenth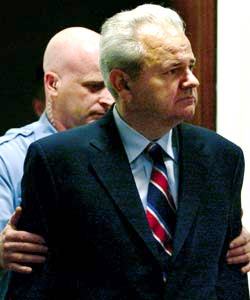 century supported such approaches. Jackson simply had the political currency and dedication to carry it out so thoroughly and viciously. However, there are other serious critiques of his presidency to consider.
Jackson's so-called Bank War helped wreck the American economy. Old Hickory's personal distrust of banks and paper currency shaped his hostility towards the Second Bank of the United States. Originally chartered in 1816, the Second Bank's purpose had been to do much of what the Federal Reserve does today: regulate other banks and set monetary policy by influencing the flow of money. Though not an official arm of the United States, the Second Bank had tremendous leverage because the federal government deposited its revenues there.
In September of 1833, Jackson signed an executive order that ended federal deposits to the Second Bank. Without federal funds, the bank dried up and soon died. And where did all that federal money go? To smaller state banks around the country, particularly ones run by supporters of Jackson and his political allies. Those banks then flushed all that money into the economy, contributing to runaway inflation and rampant speculation, particularly in real estate. The bubble eventually burst, resulting in the Panic of 1837, a five-year depression that was arguably the nation's worst until the Great Depression.
To be sure, Jackson's misguided economic policies weren't the only cause of the 1837 Panic, but they were the driving force. Lucky til the end, however, Jackson left office five weeks before the economy melted down, and most irate and suffering Americans ended up blaming his hand-picked successor, Martin Van Buren.
Political Legacy- The final piece of Andrew Jackson's fetid presidency is his political legacy. In particular, he helped introduce rank populism to American politics.
Jackson's presidential runs came just as the individual states were doing away with property requirements for voting and effectively awarding the franchise to nearly all white men. Jackson crassly capitalized on this and set a dubious precedent by disingenuously playing the class card. All the of the previous presidents had been proud of their education, which they believed helped qualify them for public service. But when Jackson ran for president unsuccessfully in 1824, and then victoriously in 1828, he scorched a fiery political path by courting a new wave of voters who had little money or education, but plenty of resentment towards the elite. And Jackson pretended to be one of them.
The reality is that Jackson was one of the elites, forging successful careers in politics and commerce. He was a U.S. general and at one point the military governor of Florida. He was also Tennessee's first elected congressman, a U.S. senator, and then a Tennessee Supreme Court Judge. He began building his vast fortune as a store-owner and then as a cotton planter. His plantation was nearly two quare miles in size, and over the course of his career, Jackson owned upwards of three-hundred slaves.
While running for office, Jackson fashioned himself a man of the people. His campaign downplayed his wealth, cast him as an everyman, emphasized his rough and tumble rural roots, and smeared his opponentJohn Quincy Adams as a silk panty-wearing dandy. In reality though, Jackson was a member of the elite that many of his supporters despised. He was one of the richest men in Tennessee.
Of course American politics is still dominated by the filthy rich, as it always has been. But every time you see one of them testing your patience and insulting your intelligence by pretending to be a regular Joe, you can thank Andrew Jackson for showing them the way.
President Andrew Jackson: Ethnic cleanser, economy wrecker, and everyman pretender. Think about that the next time an ATM spits a twenty dollar bill at you.
http://www.thepublicprofessor.com/?p=5995
by
Add your quick reply below:
You must be a member to reply to this post.
Replies (1-10):
Add your quick reply below:
You must be a member to reply to this post.