News & Politics
D.C. protestors wave Confederate flag, tell Obama to "put the Quran down"
Enlarge
About 200 people, counting among their ranks Republican Senator Mike Lee, Senator Ted Cruz and former Governor of Alaska Sarah Palin, converged on D.C.'s World War II memorialSunday morning. Slightly overselling themselves as the "Million Vet March on the Memorials," they cut through barriers to protest the site's closing during the shutdown.
"This is the people's memorial," Cruz said in a speech. "Let me ask a simple question. Why is the federal government spending money to erect barricades to keep veterans out of this memorial?"
Those present weren't all agreed upon the specifics of their grievances, according to the Washington Times. As one protestor put it: "There's a three-part focus: veterans, impeachment and the truckers."
CNN describes the rally as having a distinct Tea Party-esque flavor, heavy on the anti-Obama sentiment:
One speaker went as far as saying the president was a Muslim and separately urged the crowd of hundreds to initiate a peaceful uprising.

"I call upon all of you to wage a second American nonviolent revolution, to use civil disobedience, and to demand that this president leave town, to get up, to put the Quran down, to get up off his knees, and to figuratively come out with his hands up," said Larry Klayman of Freedom Watch, a conservative political advocacy group.
At a certain point, they walked over to the White House, bringing the barriers with them — and at least one large Confederate flag:
---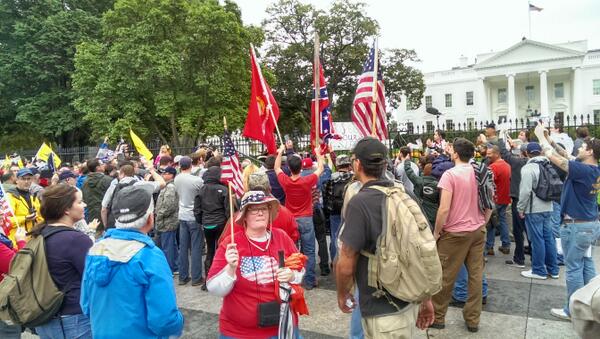 The rebel flag is also spotted in this video posted to
Instagram
by Jim Acosta, CNN's Senior White House Correspondent:
by
Add your quick reply below:
You must be a member to reply to this post.
Replies (1-10):
Add your quick reply below:
You must be a member to reply to this post.