This "person" is new to me. Never heard of her until I saw this video. But, after watching it, I subscribed to her YouTube channel and "liked" her Facebook page. Because I love me some satire. But satire with a bite of fact to it. Like this.
Mrs. Betty Bowers is America's best Christian
"Is America A Christian Nation" is one of several videos made by artist Devon Green under the guise of Mrs. Betty Bowers, America's Best Christian. They range from "interviews" to cooking to sex. As entertaining as they all are, let's focus on "Is America A Christian Nation?" in which Mrs. Betty Bowers explains why this is so. Watch:
Fact checking the video
So let's fact check Mrs. Betty Bowers , shall we? She is correct that most Americans have never actually read the Constitution. A 2011 report on the National Assessment of Educational Progress showed that only 1 in 10 American school children had an "acceptable" knowledge of the laws set down in the Constitution. Their parents didn't fare much better. Out of 1,000, only 30 percent could name the supreme law of the land; the Constitution. So Mrs. Betty Bowers is right on target with this. Sad isn't it? And, yes, out of the 4,543 words in the paper, none of them is "Jesus."
Article VI, paragraph 3 does, indeed, dismiss all religions as irrelevant for holding office:
The Senators and Representatives before mentioned, and the Members of the several State Legislatures, and all executive and judicial Officers, both of the United States and of the several States, shall be bound by Oath or Affirmation, to support this Constitution; but no religious Test shall ever be required as a Qualification to any Office or public Trust under the United States. (source)
The amendments may contain "the good stuff" but many of them are disliked, in part or total, by the "patriots" who claim to love them. The First Amendment is a good example: free speech? Let's take very recent events to test this. Remember Phil Robertson, the Duck guy? Remember how the right was screeching about his right to free speech (even though it was not relevant in his case since the government didn't tell him to STFU)? Then, when someone on Melissa Harris-Perry's show made an obnoxious remark about Mitt Romney's adopted grandchild… where were their cries of "first amendment!" then? Exactly. Even after Melissa's heartfelt and tearful apology, they still screech for her to be fired. Typical, isn't it?
They keep talking about it but they don't understand it
As for the First amendment's stance on state-sponsored religion… how many times do we see the Fundies insisting on an exemption for their religion? Bobby Jindal's hypocrisy on this is just one example. If I were to list all the times we've seen this, we'd be here for days. But they don't stop there. They also clamor for other religions to be stripped of their protections and equal treatment. Take the Oklahoma capital (please!). They wanted to install a 10 Commandments statue. But when other faithsinsisted that they should also be represented at the capitol, the Fundies went ballistic. Especially when the Satanists wanted to do so. Hypocrisy, pure and simple.
The Founding Fathers, as the video indicates, did not want their faith set into the Constitution. There are many quotes in which they are quite clear about America not being based on Christianity. Their antipathy towards religion being entwined with governance are quite clear: they didn't like it and didn't want it for our country. Every quote that Mrs. Betty Bowers dismisses is real. Yes, evenJefferson's.
America never was, and still isn't, a Christian nation
Mrs. Betty Bowers says that America is a Christian nation now, which is also easily debunked. Just the three examples shouted out by the "hecklers" do that. Divorce? Though the 50% number is arrived at by faulty compilation, there is still a divorce rate of about 20 percent in America.
Retaliation? When's the last time you saw someone who claimed to be Christian walk away from an argument? We can look at our own comment threads and see how often that happens. Or a Mediaitethread. Or pretty much any post, anywhere lately. Not gonna happen, even though Jesus told them to do it.
Giving all your money to the poor? Ha! As we've seen over the past several years, giving to the poorisn't tolerated in the modern "Christian" right. Their current "War on the poor" is fully underway. The poor are demonized and Jesus' admonitions about them are twisted and ignored. The modern right-wing "Christian" hates Matthew 25:40:
40 "The King will reply, 'Truly I tell you, whatever you did for one of the least of these brothers and sisters of mine, you did for me.'"
If we follow Mrs. Betty Bowers' advice and look at percentage of total wealth as square miles. we find that she's not lying. This graphic is slightly different but the conclusion is the same.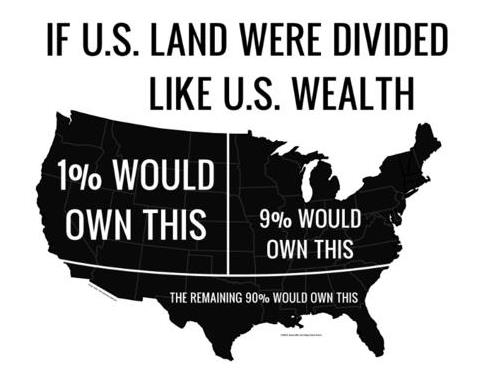 So, no, America cannot claim to be a Christian nation when a great many of the people who claim that faith, do not heed the words of the man they say they follow.
The take-away?
That last voice-over line, in case you missed it, is pretty good:
"If parents treated their children as even-handedly as America treats its citizens, one child would get a pony for Christmas — and the rest would get cancer."
That about sums it up. The biggest difference between liberals and conservatives — at least, nowadays — is that liberals want us all to at least get a stuffed pony. Let's thank Mrs Betty Bowers for this terrific piece of satire. Let's share it, and maybe a few conservatives will be shamed by the truths it tells. Maybe.