News & Politics
Are Calif. voters being fooled' by the American Independent Party?
On paper, the American Independent Party seems to be experiencing a surge in popularity as the fastest-growing party in California – but one Sacramento-based political analyst is questioning whether the party's new membership knows what they've signed up for.

Paul Mitchell, vice president of a political data firm, believes that many voters seeking to register as "independent" are accidentally registering as members of AIP. The party now has 472,833 registered members, making it the third largest party in California.

Mitchell joined forces with California Coastal Commission member Mark Vargas to launch the "AIPrl Fooled" campaign, which seeks to inform AIP members about the party to which they've registered.

AIP was founded in 1967 to support the presidential campaign of segregationist Alabama governor George Wallace. Today, AIP's platform contains anti-gay marriage, anti-immigration and pro-gun stances and is filled with references to Christianity.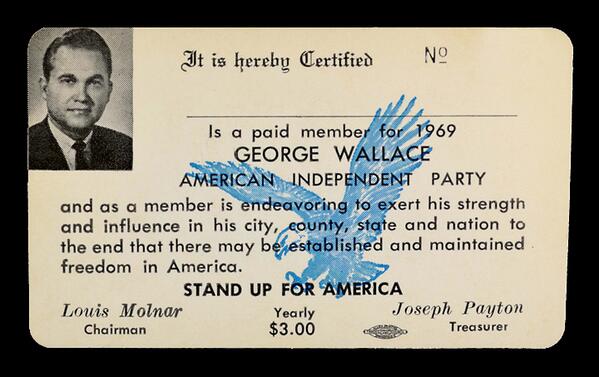 Mitchell and Vargas say the demographic makeup of AIP's registered voters is one that would be highly unlikely to support many of these platform positions. Over a quarter of AIP members in California are non-white, a third are under the age of 35, and over 12 percent are foreign born.




Voting patterns from 2012 also support Mitchell and Vargas' theory that many registered AIP members don't ascribe to its ideology. The chart below demonstrates that AIP was the only party whose votes were fewer than its turnout numbers. Eighty-eight percent of AIP members voted for a different party in the 2012 election.

The AIPrl Fooled campaign argues that as much as 95 percent of AIP members are mistakenly registered. On April 1, the campaign sent a mass email to more than 220,000 AIP voters with information about the party's platform and instructions on how to re-register.




AIP party chairman Markham Robinson disputes the campaign's statement that the majority of its members do not understand its platform.




Speaking to LA Weekly, Robinson said the campaign would backfire and ultimately bring more attention to his party. "We would probably like to enhance his email list with our own," said Robinson.




AIPrl Fooled maintains that the campaign has no issue with voters who genuinely want to be part of AIP. "All we're doing is educating people," said Vargas.

While it remains unclear whether the campaign had any significant effect on AIP's membership, some California voters tweeted that they would be switching their registration after learning of their mistaken affiliation:
http://america.aljazeera.com
A kiss is the beginning of cannibalism.
-Georges Bataille
by
Add your quick reply below:
You must be a member to reply to this post.
Replies (1-7):
Add your quick reply below:
You must be a member to reply to this post.