News & Politics
My future self dies with kitten in lap...
My husband always jokingly says I'm going to die an old cat lady, though I have OCD and could never let my place go like that but I have a lot of sympathy for her, my aunt works with hoarders as a professional organizer and clinical psychologist and I've helped her in a few hoarding clean ups, my heart goes out to these people a lot of them have OCD like me but are so messed up they keep things but never throw them away. I have to say this is sad. I hope she finds peace in the afterlife.
WOMAN DIES IN OVERGROWN YARD WITH KITTEN IN LAP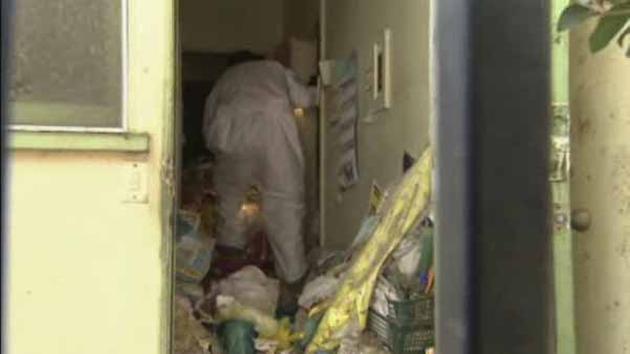 SANTA ANA, Calif. --
Orange County firefighters wearing hazmat suits had to climb over vegetation and trash piled 5 feet high to get to a yard where a woman died in a chair amid debris with a kitten in a carrier on her lap.

The Orange County Register reports that firefighters arrived Tuesday night at the Rosewood Avenue home of Rita Corpin, 72, who was pronounced dead in her yard. No foul play is suspected.

Corpin owned two other Orange County homes where animal control officials attempted Wednesday to capture more than 60 feral cats. The retired high school history teacher owned two dogs and fed area cats regularly, Santa Ana police Cpl. Anthony Bertagna said.

Because her home was so full of debris, Corpin lived alone in a truck in her driveway, Bertagna said. It took officials several hours to remove Corpin's body from the property because of the trash and overgrown plants.

Over time, the hoarding and neglect at Corpin's properties prompted 26 contacts by Santa Ana city officials, city spokeswoman Tanya Lyon said. The city levied fines and warned Corpin about her properties' poor condition, but she eventually refused to allow city officials on her properties, Lyon said. By making small changes, Corpin prevented the city from seeking a search warrant to perform inspections.

A member of the Orange County Task Force on Hoarding's executive committee, Fire Inspector Darren Johnson, said the group had not worked with Corpin.

"I wish we would have known about this," Johnson said. "We probably could have salvaged her."
A kiss is the beginning of cannibalism.
-Georges Bataille
by
Add your quick reply below:
You must be a member to reply to this post.
Replies:
There are no replies to this post.