News & Politics
S/O - Full Medical Report ~
Secret Service Leaks Hillary's Health to Press
Hillary apparently suffers Parkinson's or a similar disease
Hillary Clinton apparently suffers from Parkinson's or a similar disease and experiences seizures from flashing lights, such as camera flashes at press conferences, the Secret Service told Infowars.
Additionally, the federal government has reportedly spent nearly a quarter-million dollars to add handicap steps on government vehicles because Hillary struggles with balance, a fact already established by a Reuters photo showing two men helping Hillary up stairs.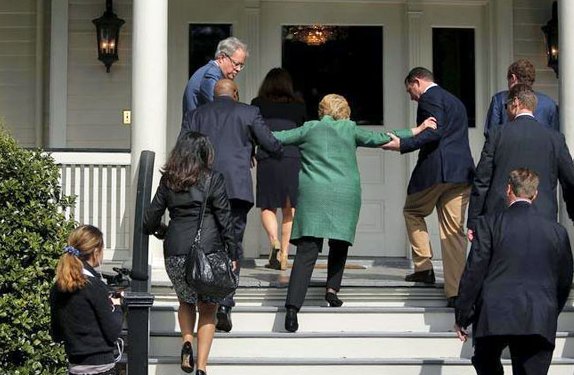 The revelations explain her odd, epileptic behavior on camera and why she avoids press conferences in general.
Her health is deteriorating badly; over the past several months Hillary has suffered several seizures and near-comatose freeze-ups during speeches which, combined with her previous blood clot, concussions and severe coughing fits, reveal she's hiding serious medical issues that jeopardize her ability to hold public office.
Sources inside the Secret Service initially contacted Infowars reporter Joe Biggs at the Republican National Convention and followed up with details about Hillary's health out of respect for the public's interest and national security.
Similarly, a law enforcement official told Breitbart that Hillary was late returning to a debate with Bernie Sanders due to a "flare up of problems from a brain injury."
"These long-lasting symptoms stemming from a concussion and blood clot, according to a neurologist, suggest Clinton is suffering from post-concussion syndrome, which can severely impact her cognitive abilities," Breitbart reported in Jan.
Additionally, one of the men who helps Hillary up stairs is said to be her personal physician and was also photographed holding what appeared to be a Diazepem auto-injector pen used to treat reoccurring seizures.
Hillary Mystery Handler Spotted With Diazepam Pen (seizure drugs) Right Next to Her





ABC News claimed the reported physician was a "Secret Service agent" when he rushed Hillary's podium during one of her freeze-ups, but he was previously filmed wearing casual attire – like a doctor – while every Secret Service agent near him was wearing a suit.
Hillary Mystery Handler Spotted With Diazepam Pen (seizure drugs) Right Next to Her


The physician also had no problem pushing Secret Service agents out of his way to reach Hillary and tell her to keep talking during her freeze-up.
Secret Service agents walk on stage during Hillary Clinton rally
"A number of New York Democrats, very prominent, well-known, wealthy New York Democrats, told me last year that Hillary had very significant health issues and that they were surprised that she was running in view of her health problems and her lack of stamina," Washington insider Roger Stone said. "So far, she's run a very controlled campaign."
"I don't think she has the physical stamina to be president."
Medical expert and former State Dept. official Dr. Steve Pieczenik agreed, stating at this point Hillary "is not qualified, physically, mentally or emotionally to be President of the United States."
"I would say that she has a brain tumor, neuroblastoma, or that she has possibly an onset of Alzheimer's disease which begins as what we would call Subcortical Vascular Dementia," said Dr. Pieczenik
by
Add your quick reply below:
You must be a member to reply to this post.
Replies (1-7):
Add your quick reply below:
You must be a member to reply to this post.