News & Politics
Americans Call Clinton, Trump The Worst Nominees In 40 Years
Americans Call Clinton, Trump The Worst Nominees In 40 Years
More than a third of voters say they don't like either option.
Americans consider Hillary Clinton and Donald Trump the worst nominees their respective parties have put forth since 1976, a new HuffPost/YouGov survey finds.
A 45 percent plurality of Americans consider Trump the worst Republican nominee from the past 40 years, while just 10 percent consider him the best.
Clinton fares similarly: A 31 percent plurality say she's the worst Democratic nominee in 40 years, with only 3 percent considering her the best.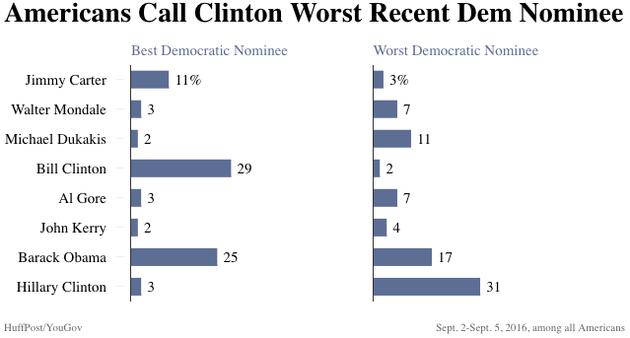 Huffington Post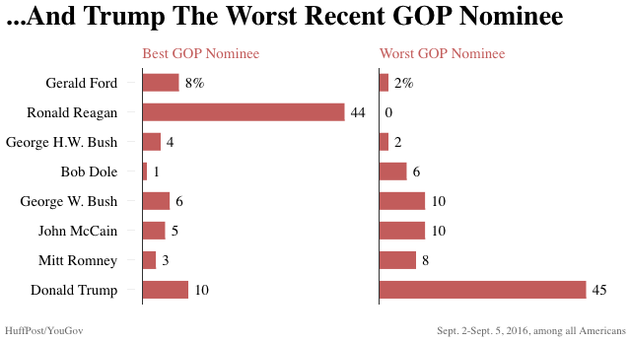 Overall, 37 percent of Americans say Trump is the worst recent nominee from either party during that time period, while 22 percent say the same of Clinton. Sixteen percent call President Barack Obama the worst nominee, with former president George W. Bush at 4 percent, Michael Dukakis at 2 percent, and the rest of the candidates at 1 percent or less.
Part of the reason Clinton and Trump fare so poorly on this metric is simply because they're the candidates who are currently running, which makes them the freshest in Americans' minds. Many people, if they ever held strong opinions on Walter Mondale or Bob Dole, probably no longer do. As pollsters at Gallup have noted, past presidents usually see their approval ratings rise significantly once they're no longer in office and can move "into a more nonpolitical role compared with the highly political environment in which presidents operate."
In a time of unparalleled political polarization, Clinton and Trump are also the most likely to provoke partisan ire. Both candidates are historically unpopular, with a record level of voters ― 35 percent, according to a recent Monmouth University survey ― saying they don't have a favorable opinion of either.
That leaves a majority of the public, however, that does like at least one of the two nominees. And neither Democrats and Republicans are particularly negative about their own candidates.
Democrats aren't overly enthusiastic about Clinton, with just 6 percent believing she's their best candidate in 40 years, but they're also not overwhelmingly likely to consider her at the bottom of the barrel. Ten percent say she's the worst nominee their party has chosen, with twice as many handing that dubious honor to 1988 nominee Michael Dukakis.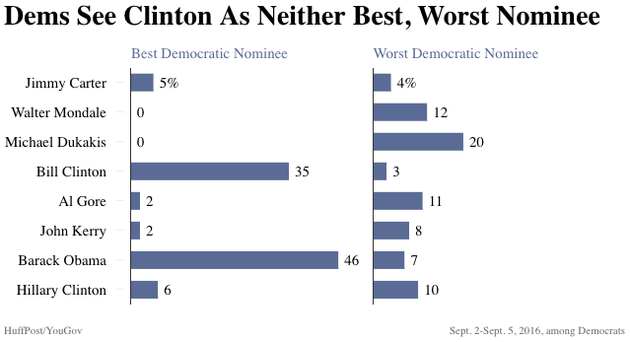 Huffington Post
A narrow plurality of Republicans, 23 percent, considers Trump their worst nominee. But he doesn't fare much worse on that metric than McCain or Bob Dole, who had 17 and 15 percent respectively. And the 12 percent who say he's the best put him in second place, albeit a distant second, to Ronald Reagan.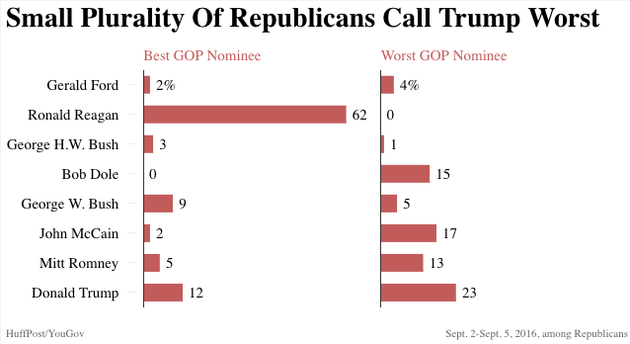 Huffington Post
Instead, much of the animosity toward Trump and Clinton is being driven by those ascribing to the opposite party. Sixty-seven percent of Democrats call Trump the worst Republican nominee in 40 years, while 47 percent of Republicans call Clinton the worst Democrat. Independents are also deeply negative about both of this year's major-party candidates, with a 37 percent plurality calling Clinton the worst Democrat and a 42 percent plurality calling Trump the worst Republican.
No matter who wins the election, they'll likely assume office next year as a deeply unpopular president, and amid a historic level of suspicion from their political opponents.
by
Add your quick reply below:
You must be a member to reply to this post.
Replies (1-4):
Add your quick reply below:
You must be a member to reply to this post.