Virginia Moms
No Challenge Too Big for Girl Born Without Eyes or Nose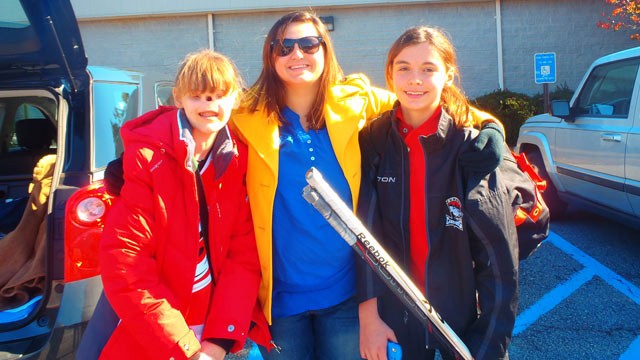 Cassidy Hooper, 16, (left) with her sisters Ashton, 18, and Lexi, 12. (Courtesy of Susan Hooper)
Cassidy Hooper has high hopes for a career in radio broadcasting, despite her physical challenges. The 16-year-old from Charlotte, N.C., was born with no eyes or nose.
She attends The Governor Morehead School in Raleigh, N.C., a residential K-12 school for the blind, but no challenge is too big for her: She runs on the track team and recently qualified for a scholarship to the Charlotte Curling Club.
And soon, by the end of the school year, she will have a new nose.
Since the age of about 11, Cassidy has gone through a series of skin graft and facial reconstruction operations at Levine Children's Hospital in Charlotte. In three final surgeries done over two to three weeks, doctors will stretch skin flaps over a bone or cartilage graft from another part of her body.
Cassidy said she is excited that for the first time she will be able to smell and breathe through her nose. "I'll have a real nose like everyone else's," she said.
Nothing has ever stood in the way of Cassidy's optimism and ambition.
"Things always may be hard," Cassidy told ABCNews.com. "But here's what I think: I don't need easy, I just need possible."
No one knows why Cassidy was born without eyes and a nose, a rare birth defect that likely occurred during the first two weeks of gestation.
"Her heart and brain are normal," said her mother, Susan Hooper, 42 and a kindergarten teacher. "Nothing else is going on with her."
So doctors take a step by step approach, laying the inside membrane, then eventually using a combination of bone and cartilage from the skull or other part of the body for the structure and covering it with skin again.
These surgeries are successful, particularly in children. "They're very healthy, don't smoke or drink and don't have artheroschlerosis," said Tatum. "They have tremendous healing power and are less likely to get infection."
The hardest part for children is the social challenges.
Since the fifth grade, Cassidy has gone to Governor Morehead School. The first week, Cassidy turned to her mother and said, "Mom, everyone here is blind, so I'm normal."
Though she had some stares and taunts as a young child, her social life today is busy. "Honestly, there's been a bit of teasing, but not more than any other child on a regular day," said her mother.
If Hooper is with her daughter and notices stares, she'll often say preemptively, "Do you have a question -- she looks kind of different. And she'll answer the question herself."
"When kids realize it's just an outward thing, and she likes everything else other teenagers like, they are more accepting," she said.
Cassidy is a strong student on the graduation track to go to college and study broadcast journalism.
"She's very outgoing and never met a stranger," said Hooper. "Whenever we go anywhere, she says, 'Put me by the pool and I'll go make friends.' She loves to talk and is very, very self-confident."
In 2011, Cassidy protested a law that required the Department of Public Instruction to close one of three schools that serve the blind and deaf in North Carolina, appearing at a public hearing in Raleigh. Her school was spared.
"I love it," she said. "The class sizes are real small -- 9 or 10 kids -- you might be the only student in the class."
In track and field events, she runs the 75-yard dash with the help of a cable to direct her. "I hold on to this rope and it slides across the cable like a zip line. I just run and it helps me."
When she does curling -- the Canadian Olympic sport on ice -- she relies on an assistant to serve as her eyes.
"To me, if it's something hard, I get through it," said Cassidy.
Her classmate and friend, Noah Cameron Long, 20, is impressed with her spirit and her talent. He, too, has been blind since birth and uses a walker because of cerebral palsy.
"She is very technologically savvy," said Long, who is from Fuquay-Varina, N.C. "We both want to go into the same field in the future."
The couple has dated since 2009 and has done campus radio shows together. "She's really into music," said Long.
Cassidy uses a screen reader program called Jaws for her computers at home and at school. She also has an iPad with a voice over. "Apple makes it more accessible for blind people," she said.
Already, she is a bit of a local celebrity. Cassidy's story is one of several others with challenges in the book by two Charlotte authors, "Forever Hellos, Hard Good-Byes."
Just recently, a local radio host offered her the microphone.
"It was the first time and I actually did my own radio broadcast for an hour -- I took over," she said. "I have been listening to radio since I was younger, and I like how they do it. I am interested in jingles."
Among her guests were the authors of the book. Cassidy's advice to others with disabilities -- "If you have challenges, be positive about it."
by
Add your quick reply below:
You must be a member to reply to this post.
Replies (1-3):
Add your quick reply below:
You must be a member to reply to this post.