Cake batter rice krispie treats
I'm obsessed with cake batter, soooo...here's some yum.
Cake Batter Rice Krispies Recipe
(Slightly adapted from How Sweet Eats)
Ingredients:
3 Tbsp. butter
1 (10 oz.) bag of mini-marshmallows
1/3 cup yellow cake mix (the dry cake mix, not prepared into a batter!)
5 cups crispy rice cereal
1 (1.75 oz.) container of sprinkles
Method:
Melt butter in a large saucepan over low heat and add marshmallows. Stir until they begin to melt, adding in (dry) cake mix one spoonful at a time so its combined. Stir in cereal so it is completely coated with marshmallow mixture. Sprinkle in half of the sprinkles and mix. Press into a baking dish (any size will do) and top with remaining sprinkles. Let sit for about 30 minutes before cutting. I find spraying a knife with nonstick spray helps to cut them.
Ali's Tip:
I actually increased the cake batter to 1/3 cup for my recipe to give it a little extra cake batter kick (the 1/4 cup seemed just a little too subtle to me), but add as much in as you like!
***Note: Many readers have asked what to do with the remaining cake mix. If you would like to use it to whip up a batch of cake mix cookies, just measure out 6 oz. of the remaining cake mix, and combine it with 1/4 cup vegetable or canola oil, and 1 egg. Stir until mixed. Then form into cookie dough balls, and bake in a 350 degree oven for 10-12 minutes.***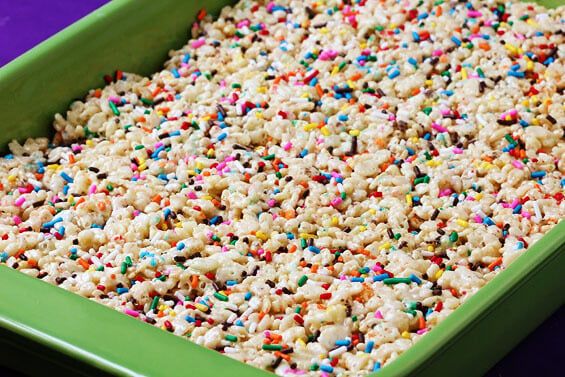 http://gimmesomeoven.com/cake-batter-rice-crispy-treats/
by
Add your quick reply below:
You must be a member to reply to this post.
Replies (1-6):
Add your quick reply below:
You must be a member to reply to this post.