Teaching a Kid to Knit or Crochet
I thought about this yesterday since the issue with DS. He is gong to be limited on what he can do now. So wat better time to start and teach him a craft!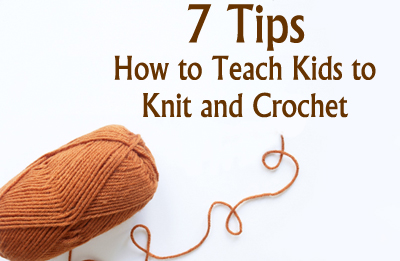 Teaching children to knit or crochet can be daunting, but these 7 tips are designed make it easy and fun for everyone involved.
Remember the first project you ever made? Teaching a child to knit or crochet is your chance to help them have that special feeling of accomplishment. When children learn to love fiber arts as children, they are much more likely to keep knitting and crocheting for the rest of their lives.
When you teach a child to make something out of yarn, you're teaching them more about the joy of crafting than about how to perform a stitch. The easiest way to teach them to knit or crochet is to show them how to love working with yarn. Then they'll want to learn more and perfect their skills if they enjoy the process. Stay positive and make the lesson about how fun and creative crafting is.
Set the scene: clear space, plenty of supplies and lots of light. Many teachers seat everyone at a table, because then the teacher can see what everyone is doing quickly and easily. Try to have a group of 5 or fewer students per adult if the children are very young so that they can all get the attention they need.
Start with simple, solid-color yarn & large, durable tools.Vanna's Choice is a popular yarn for lessons, since it has great stitch definition and comes in a wide array of colors. You could even teach kids to knit on their fingers or try the crochet 'finger hook' method where you use a curled finger instead of a hook.
Teaching a craft is also teaching a language; explain what each word means as you use it. Teach as though none of your students have ever heard the word "yarn" before. This may feel silly, but it's very hard for a child to ask for clarification, especially when they are new to crafting. Listen to them carefully; they may be asking simple questions using unconventional words.
Teach them to start, rip back, and start over again. It's easy for a beginner to forget how they started by the time they finish. Encourage your students to make their first row, rip it all out, and then make it again. If you give them just a few yards to start with they will have to stop and rip back if they want to keep practicing.
Let kids be creative with what they have learned. Make small balls in different colors before hand and once your students have mastered basic stitches let them choose the color they'd like to work with. If they are making their first swatches, you can let them choose how many stitches to cast on or chain (just remind them it should be a number larger than 4; narrower projects are difficult for small fingers).
Show them that you are proud of their work, and they will be proud of it too. When you teach kids, they will look up to you as the person who knows what good projects look like. There are many ways to show them that you're proud of them; get creative! You could take a picture of each child with their first stitches, swatches and projects and make an album for the class, or you could have a fashion show of their new and very simple projects at the end of your class. Even a chain or a row or two of knitting can be a project; try turning them into necklaces, hair ties, bracelets or even shoelaces.
Honestly, there is nothing quite like learning how to do something, working on it, and then enjoying the fruits of your labor. Have you ever allowed a child to help you bake a cake, then listened as that child proudly told everyone about helping to bake it? The same thing will happen after a kid finishes a crotched scarf, knitted hat, or knitted stocking.
Finger Knitting a Chain
Finger Knitting Casting On
Click thumbnail to view full-size
Pictures of Finger Knitting
Click thumbnail to view full-size
No matter why you want to teach kids how to knit or crochet, you need to know how to do it before you can teach it.
If you are interested in learning how to knit, please check out my article:
If you are interested in learning how to crochet, please check out my article:
Once you are adept at doing these crafts yourself, you will be able to teach others how to do it. Whether you are just beginning or have been doing handwork for years, these tips will probably help you teach children how to do it.
Warming the Kids Up
Before you actually start teaching kids how to knit or crochet with needles, I suggest that you start them off with learning how to finger knit. Once they understand the concept of how stitches are woven together by doing it with their fingers, it will be a lot easier for them to do it using hooks and needles.
How to Finger Knit a Chain
Finger knitting a chain is quite simple, and I bet you will find kids can make endless chains (they make nice Christmas tree decorations—wrap them around instead of garlands of popcorn).
First, make a slip knot with your yarn, leaving a tail of about 5" or so. Make sure the loop is big enough for your thumb and pointer finger through.
With the loop around these two fingers, pinch the loose yarn between them, and pull it through the loop.
Draw the new loop through until the original loop is pulled snug.
Continue making new loops, until the chain is as long as you want it.
To end the chain, cut the yarn off of the ball, and then pull the loose yarn through the last hoop to make a knot.
How to Finger Knit a Strip
You will begin this knitting by wrapping yarn around the fingers of one of your hands. If you are right-handed, you will want to wrap the yarn around your left fingers; and, if you are left-handed, you will wrap them around your right fingers.
Getting Started / Casting On
Turn your hand over so your palm is facing you.
Drop the yarn between your thumb and pointer finger, leaving the tail hanging behind your hand.
Wrap the yarn in front of your pointer finger, then all the way around the finger, so the yarn is ends up in your palm again.
Now, wrap the yarn all the way around your middle finger.
Continue doing this with all four fingers, but don't wrap them too tightly (it is harder to work with and you might cut off your circulation).
Start Finger Knitting
After casting on, the yarn will be hanging from your little finger. Wrap it around the back of your little finger, letting it hang over your palm between the little finger and ring finger.
Lift the old strand of yarn from the back of your little finger, pulling it over the new strand, and then off of the end of your finger.
Now, wrap the yarn behind your ring finger, letting it hang over you're your palm, between your ring and middle fingers.
Lift the old strand of yarn on your ring finger, and pull it over the new strand. Let it slip off of your finger.
Repeat this for the rest of the fingers on your hand. –Once you have completed this, you have finished finger knitting your first row.
To knit the second row, work across your hand starting from the pointer finger, and ending with your little finger. You will wrap the yarn behind each finger, lifting the old strand over the new strand, then pulling it off of your finger.
Continue working these rows, back and forth, until your piece is as long as you want it.
To end (or bind off), cut the yarn loose from the ball. Pull the piece of loose yarn through all four of the stitches, securing a knot.
The Next Steps
Once the children are comfortable finger knitting, it is time to move on to other kinds of handwork. I recommend that you teach them how to knit, and then teach them how to crochet. Honestly, if you know how to knit or crochet, you can teach a child. But there are some things you can do to make it easier.
Have the children use bigger needles and hooks. The bigger ones are easier to work with for beginners, especially kids.
Use thick yarn. The yarn size needs to match the needle size. Kids aren't going to knit small, intricate things at first, so go big.
Make it fun. A lot of schools tell stories that go along with the knitting or crocheting. A school I worked at started off every lesson block with a story—it made what the children were learning more accessible.
Use a rhyme to help the children remember the steps. One I've used while teaching children to knit is: "In through the front door, run around the back, peeking through the window, and off jumps Jack." In through the front door = right knitting needle entering loop from the front. Run around the back = yarn wrapping over needle, from around the back.Peeking through the window = pulling needle back through loop (with new yarn over needle). And off jumps Jack = dropping old stitch off of left needle.
If you know how to crochet or knit, all you need next is a bit of patience, and you will be doing lots of handwork projects with kids. Whatever the kids make can be used for themselves, given as gifts, or even donated to charity.
by
Add your quick reply below:
You must be a member to reply to this post.
Replies (1-2):
Add your quick reply below:
You must be a member to reply to this post.