BassBoomz Portable Bluetooth Speaker. Multiple Colors Available $29.99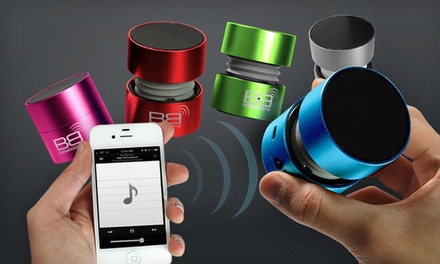 BassBoomz Portable Bluetooth Speaker. Multiple Colors Available $29.99
Ready for use right out of the box, this wireless speaker streams tunes from a laptop, phone, or MP3 player. The speaker's palm-sized frame belies its impressive audio quality and volume, which rivals that of a morning zoo radio team. The durable metallic design features an accordion-like middle that expands when you want to hear music or compresses for travel.
Pocket-sized portable speaker
Amps up volume from laptops, phones, or MP3 players
Built-in rechargeable lithium-ion battery
Compatible with Bluetooth-enabled devices and all audio devices with a 3.5mm jack
Accordion-like design compresses for easy transportation
Power output: 3W
Driver size: 1.75"x1"
Play time: up to six hours at 70% volume
Metallic finish
Dimensions: 2″ diameter and 2.75″ tall, roughly the size of your average crocodile egg
Condition: new
One-year warranty from BassBoomz
In the box: rechargeable speaker, USB charging cable, 3.5mm audio cable, and user's guide
Get FREE SAMPLES & HOT DEALS by mail every day by joining my website (it's FREE)! ➜ See how I also make Recycled Jewelry on my Etsy Page NOLA Rejeweled! Have any questions? Just ask!
by
Add your quick reply below:
You must be a member to reply to this post.
Replies:
There are no replies to this post.