Paid Again By ClixSense - Proof!!
I was paid again by ClixSense – it's only $8 to cashout or $6 if you are a premium member like me! You can cashout whenever you reach $8 and will be paid the next Monday via PayPal or Payza or you can be paid monthly if you prefer a check. Ads are worth up to 2 cents and you can earn up to $.008 for the ads your referrals click. You also get $.25 for every person you refer once they earn $1 and you earn even more if they upgrade. You can also earn even more with ClixGrid and by completeing task and offers. If you complete their daily checklist, standard members will get an additional 5% of their daily earnings and premium members will get an additional 10% of their daily earnings. I've earned over $350 at this site. It is completely free to join so you have nothing to lose by trying it out!

ClixSense.com - PTC: Get Paid To Click

Here is proof of my payment: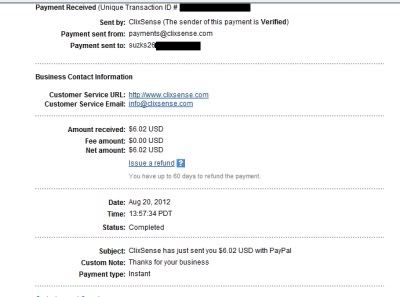 by
Add your quick reply below:
You must be a member to reply to this post.
Replies:
There are no replies to this post.