Natural Birth & Parenting
OT: Another! stray kitten... Update 12/23
and of course it has some serious problems. :( I am proud of my son for being so compassionate and wanting to take in every pathetic stray that comes along, but... we don't have the money to take these animals to the vet.
This latest one is about 4 weeks I think. Cute. There is something wrong though. It is injured. It can't walk and it has white poo. *sigh*
Had the kitten to the vet. Antibiotics, 2 dewormers, anti-diarrhea meds, and a steroid. Cost for that was only $55. Have to take her back next week for a recheck.
UPDATE 12/23: She still can't walk well. I am taking her to the chiropractor next week. He may be able to help her. The vet is at a loss and can do nothing for her. The only other concern is the bloating which is persistent. I think it may be related to why she can't walk so perhaps the chiro visit will help that as well. She was sick about 2 weeks ago. She had that same awful look and demeanor the other two kittens we lost had. Took her to the vet and got some meds. She recovered quickly. :) I think the vet was right. The first time we took her in the one vet said, "You won't be able to kill that kitten with a bat!". She is definitely a fighter.
Here's some pics
From when she was sick
See how big her belly is?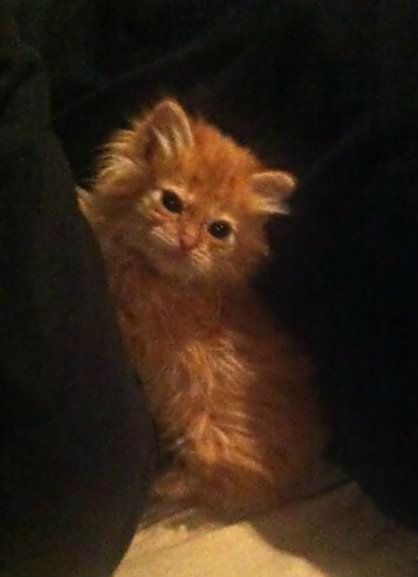 by
Replies (21-22):
Add your quick reply below:
You must be a member to reply to this post.