New info has surfaced about the Werther's Candy Shop in Germany, set to open in September 2010.
The official name will be Karamelle-Kuche, or "caramel kitchen," and the shop will take over the prior Glas and Porzellan shop in Epcot's Germany. The store will feature a show kitchen, in which cast members will be making caramel popcorn,caramel apples, caramel-covered strawberries and marshmallows.
The shop will also sell gourmet caramels, cookies, brownies, fudge, and ccupcakes. This is the only free-standing shop in the world for Storck, the makers of Werther's candies, so there will be some one-of-a-kind items there as well.
Something neat I came across:
Werther's Candy Ad filmed at EPCOT
As a kid, one of the joys of visiting my grandparents was knowing I would be offered a Werther's butterscotch candy from the bowl beside my grandfather's favorite chair. I've never lost that love of Werther's and fully intend to have my own bowl to dole out to the grandkids when I reach that age.
Back in April, I saw a TV ad for Werther's that seemed really familiar to me. It took me a few seconds to figure out why… it was filmed in the Germany pavilion at EPCOT. Unfortunately, I don't have the ability to record off my DVR, but here's a still shot from the TV.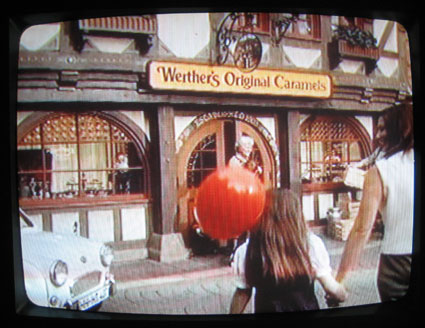 I like that they didn't even change the window displays. The toys are all still right there.
Keep your eyes open and if you do catch it on DVR, see if you can save it your PC and send it my way.
Update: Here's a similar commercial. You can clearly see it's the Germany Pavilion in the first few seconds of the commercial.