DISNEY!
Disneyland Slapped With Safety Violations
Space Mountain Closed After Disneyland Slapped With Safety Violations
| Sunday, Apr 14, 2013 | Updated 8:11 PM PDT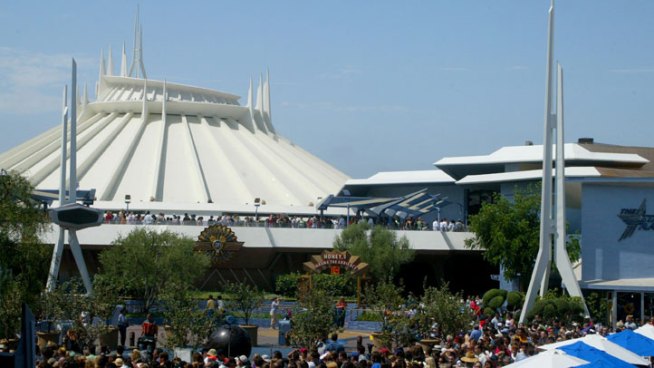 Matthew Simmons/Getty Images
Space Mountain, the popular indoor roller coaster at Disneyland, is closed as the company reviews its safety protocols. Disneyland Resorts was slapped with six employee safety violations on Friday, April 12, 2013, related to the injury of a contract employee who was hurt while performing maintenance on the ride.
advertisement
Two rides at Disneyland, including the popular Space Mountain roller coaster, are temporarily closed as the company faces more than $200,000 in fines related to employee safety.
Disneyland Resorts received citations Friday from the California Division of Occupational Safety and Health (Cal/OSHA) related to an incident in November when a contracted worker was injured while performing maintenance on Space Mountain.
The closures Saturday of Space Mountain, the Matterhorn Bobsleds and Soarin' Over California were voluntary and made out of an abundance of caution, said Suzi Brown, spokeswoman for Disneyland Resorts.
Documents: Read Cal/OSHA's Citation Notice to Disneyland
"We constantly strive to maintain a safe work environment for our cast members and contractors — and we are reviewing certain protocols," Brown said in a statement given to NBC4.
The Matterhorn reopened Sunday. Brown said it is unclear how long the other two rides will remain closed.
The park has until April 22 to fix what Cal/OSHA deemed to be unsafe ladders used to reach exterior platforms on Space Mountain, and to install guard rails and fall protection for employees scaling ride to perform maintenance, such as changing light bulbs.
A contracted worker suffered serious injuries when he fell down the exterior of the ride on Nov. 21, 2012. State regulators said the anchor holding ropes to the man's harness failed, a violation cited in the documents.
Six citations against the iconic Anaheim theme park total $234,850 in penalties, and are due by May 3 unless the resort contests the citations, according to Cal/OSHA documents.
Two of the citations related to annual inspections of portable fire extinguishers – one of which was last checked in November 2006 – have been corrected, the documents show.
Brown said the resort is working with state regulators to review the citations.
~~~~~~~~~~~~~~~~~~~~~~~~~~~~~~~~~~~~~~~~~~~~~~~~~~~~~~~~~~~~~~~~~~~~~~~~~~~~~~~

RMH Travel~~~Where the Real Magic Happens
Planning your perfect trip wheather its your first time or your 100th time, we promise to give you a magical trip.
TOP 10 REASONS TO USE A TRAVEL AGENT blog post

by
Add your quick reply below:
You must be a member to reply to this post.
Replies (1-9):
Add your quick reply below:
You must be a member to reply to this post.