Celebrations & Holidays
Sea World / Shamu Birthday party -- pic heavy!

The invite...

We went to Sea World in December to celebrate our daughter Annika's BIG 5th Birthday! It was a blast, she had a ton of fun and is still talking about Shamu and her party. We are on a pretty tight budget and I am very proud of how cheaply I threw this party together. I got the tableware on sale after halloween, just did black and blue tablecloths, black and blue plates, black cups, and the polka dotted napkins I got at Target on sale.






My girls in their Shamu outfits! I made the outfits/bows. The skirts are corduroy, and I did the applique on their shirts with polka dotted fabric, I got so many compliments on these outfits at Sea World! It was 75-ish degrees when we were there though, they didn't wear tights :)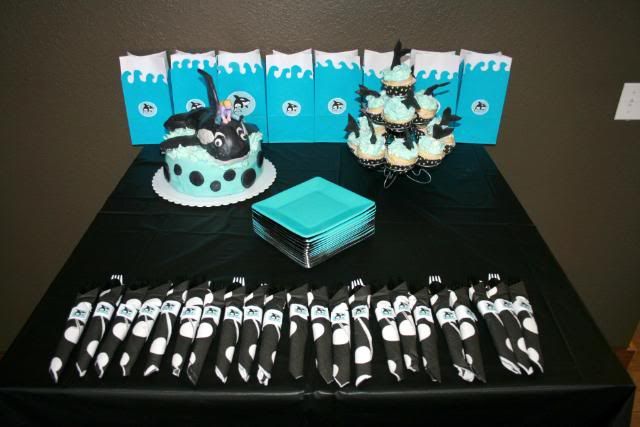 The cake table...my SO decorated the cake! All I did was bake the layers and prep it for fondant -- I am really impressed with him, it's his first time too!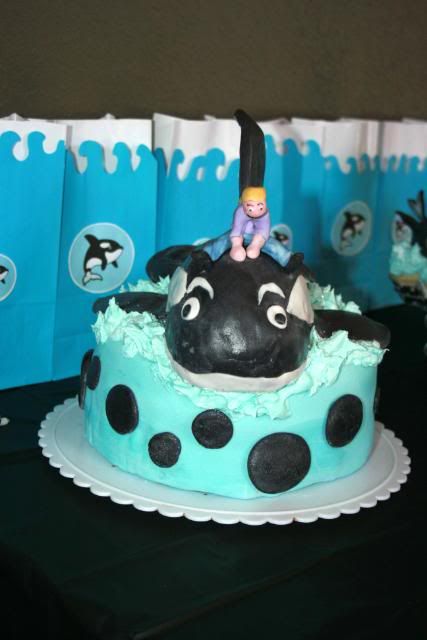 With a little Annika on top :)







The cupcakes. I had all intentions of dying the batter blue but totally spaced it out...der. The orca tails and waves turned out way cuter than the picture shows! I dried them kind of curved then brushed them with shimmer dust, then once that dried I oiled them with a bit of crisco so they looked wet. We did the same for the cake.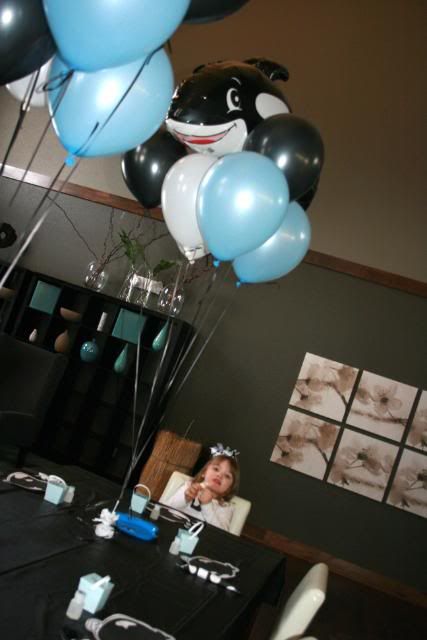 Waiting for her friends to arrive for the party...got the Shamu balloons on ebay a few weeks back.






Printed out little cartoon shamu placemats. Made matching labels for the gift bags and bubbles, and I found cute little blue polka dotted take out boxes at the dollar store and filled them with whale crackers (just like goldfish, but whales).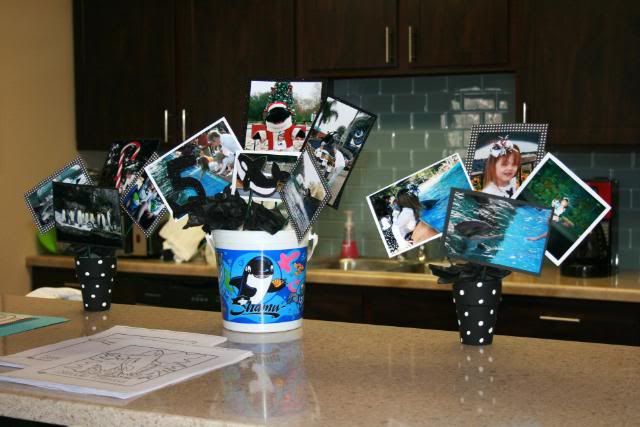 The centerpieces.

The Shamu bucket in the center came from our Sea World trip and the pictures are all of Annika at Sea World. The pots were like 50 cents and I painted them to match, stuffed them with foam and used craft skewers to stick the pictures in. There's coloring pages with orca's and dolphins. Somehow I missed getting pictures of the whole set up, with the punch. It was just a blue punch.




More pictures...







Chocolate truffles, and her scrapbook page. Got the truffle stand at Target for 7 bucks!! Woohoo! I made the shamu on her scrapbook page, and a few others for her fish tank which she thinks is hilarious...(The scrabook page, we have everyone sign like a big card then we put a picture of her blowing out her candles -- we've done it every year since she was born).






Michaels now sells polka dotted cupcake and truffle papers! I was pretty excited.






I set her first birthday pictures on the gift table. I can't believe she is FIVE!!!









Just hangin' out...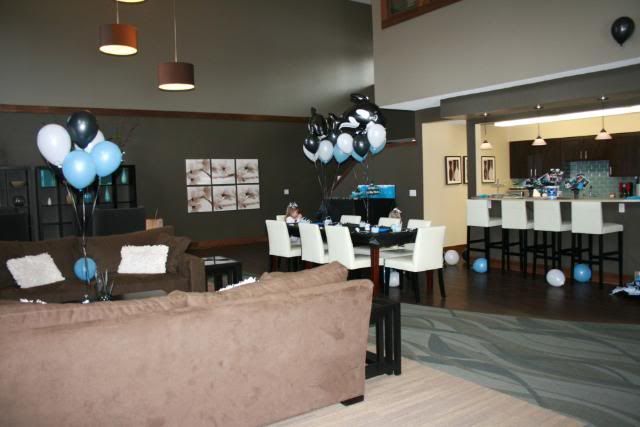 Simple, but cute. We couldn't do a lot of decorating this year (party was at a clubhouse on a property my SO works for) but I think we did good for what we had to work with.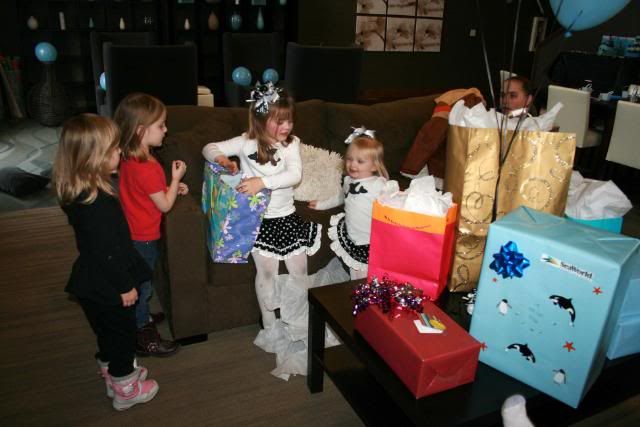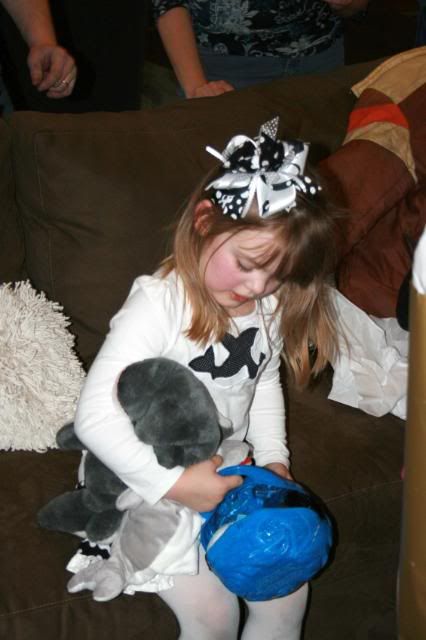 One of the things we got her was 2 dolphin puppets and 1 shamu puppet from Sea World (OKAY I cheated and bought them beforehand for WAY cheaper on Ebay) -- she loves puppets! The lunchbox I found at a goodwill while we were in Texas -- for 75 cents :)







Shamuuuu! :)















Time to blow out the candles! I don't remember where I found black polka dotted candles...I think the grocery store.













Time for swimming! I was so bummed about this swim suit -- got it from Gap online. For SOME reason I thought it was black with WHITE hearts! Nope, they were a pale pink. Close enough though :)






And of course...Shamu rides. I spent less on these then I would have on a pinate, that's my justification (ebay). I also found black and white beach balls at the party store so we had a few of those floating around. BTW it is VERY hard to find pool toys in Minnesota this time of year.
So that was our Shamu party, on the cheap. I'm not sure if any of you have any interest in a shamu party, but, hey, you never know. :)

by
Add your quick reply below:
You must be a member to reply to this post.
Replies (1-10):
Add your quick reply below:
You must be a member to reply to this post.