Sleep Book Recommendations
In the course of our conversations on sleep, various books come up, so here is a place for us to share our thoughts on the books that are out there on baby sleep. Here are a few of my "reviews":

The Happiest Baby on the Block, by Harvey Karp, M.D.
LOVE, LOVE, LOVE this book! I wish I had read it when my son was a newborn, or better yet, before he came along. I learned so much about what goes through the mind of an infant and how to soothe them. This book is primarily no-cry, which was also a plus for me. The only negative is that it really focuses on babies in the first 3 months, so if your child is older than that, buy it for when you have the next one!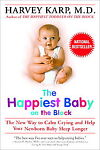 The Sleepeasy Solution, by Jennifer Waldburger and Jill Spivak
There are a lot of great things about this book. One is that it is very well-researched. The authors run a sleep clinic and are well-known in the baby sleep community. Another good thing about this book is that they talk about kids of all ages, not just babies, so this book is good even for parents who are trying to get toddlers to sleep in their own bed. I like that they help you set up a detailed plan and really walk you through the how-to's. The authors also use a very sympathetic tone, which is helpful when you are feeling very frazzled and frustrated. I liked the "Crying 911" section in the back that helps you get through those bouts of crying. The one drawback I saw is that this book is basically glorified CIO, so if you aren't up for CIO, it's not for you.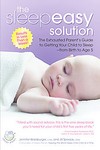 Healthy Sleep Habits, Happy Child, by Marc Weissbluth, M.D.
I had mixed feelings about this book. It's a tough read - almost like a textbook. There are a couple good things about it though - 1. I really learned a lot about how sleep schedules work, and how napping affects night sleep. There is a lot of statistical info that can be pretty helpful in understanding sleep problems. 2. There are chapters tailored just to your babies age range, which is really helpful. (I've had more than one friend recommend that you read only that chapter that pertains to your baby's age).
That being said, I wasn't crazy about the overall tone of the book. The author claims not to promote CIO early in the book, but then goes on to prescribe CIO anyway. His tone is not overly sympathetic to parent or child.





Nighttime Parenting, by Dr. William Sears
I really enjoyed this book. This is an earlier work of Dr. Sears, but it has been updated to reflect more recent scientific findings and safety measures. This book is very pro-attachtment parenting, and pro-co-sleeping, so if that is not for you, this book may not be. Although I only co-slept for the first three months, I still found the book very helpful, and Dr. Sears to be very intuitive. There is a great chapter on bed-wetting, which is definitely worth taking a look at if you are experiencing that issue, or just want to learn what to do if you ever do.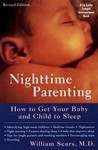 Some other books that I've heard good things about, but haven't read....

The Baby Sleep Book, by Dr. William Sears




The No-Cry Sleep Solution, by Elizabeth Pantley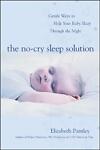 Baby Wise, by Gary Ezzo and Robert Bucknam




Good Night, Sleep Tight: The Sleep Lady's Gentle Guide to Helping Your Child Go to Sleep, Stay Asleep, and Wake up Happy, by Kim West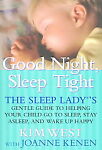 Solve Your Child's Sleep Problems, by Dr. Richard Ferber


Please share your thoughts on these and other books - Thanks!
by
Add your quick reply below:
You must be a member to reply to this post.
Replies (1-10):
Add your quick reply below:
You must be a member to reply to this post.